We were delighted to see so many entries for our first Rider Of The Month. We want to celebrate achievements, support talent and pick someone up for the month. We thought it was time to get to know our first rider Lucie Wells. Lucie is 28 and for 5 years has owned Sprite, a 14-year-old thoroughbred ex racer who she Events. As Lucie says, "he's not necessarily what everyone would consider as a top class event horse but to me he is perfect, especially after nearly losing him to pneumonia last year"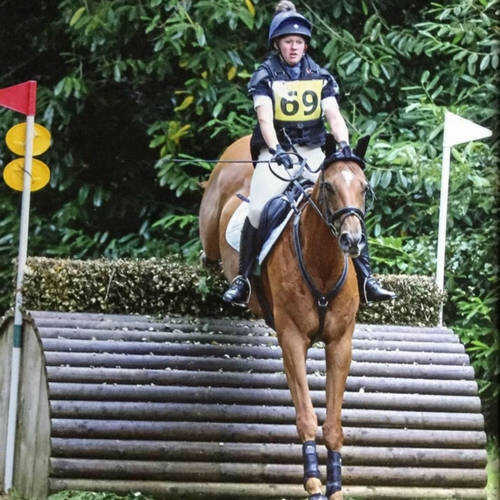 Find out more about Lucie and her horse of a lifetime Sprite as we put some questions to her…
If you could ride any Event horse right now who would it be?
It would have to be Nereo, always has been my favourite, but then I am quite partial to ginger ponies.
How do you find juggling work and horses?
Juggling work and horses is always quite tricky, I tend to get to the yard between 6.30 and 7 in the morning and ride before work, then normally won't get back to the yard until 6.30/7pm, to sort him out and put him to bed for the night. During the summer it never seems as tricky to ride early or still be at the yard at 9pm at night, however in the winter it's never as nice to be at the yard at 7pm in the cold, wet and pitch black – we are however fortunate enough to have an indoor arena on the yard which really does make all the difference!
Why did you apply for Caldene Rider Of The Month?
I have followed Caldene's Facebook page for quite a while as I really like the clothing range, and I happened to stumble upon the post about applying to be their Rider of the Month just after we had been at Smiths Lawns British Event. I was so proud of Sprite having just got a double clear round our first Novice Event, so I just wanted to tell everyone about how amazing he was, and this felt like the perfect opportunity.
If you could describe Sprite in three words what would they be?
A huge character!
What's your aim with Sprite for the end of the season?
I would like to get a few more successful Novice runs under our belt, before the end of the season, so that when we get out eventing next year we will be able to start being a little more competitive at this level.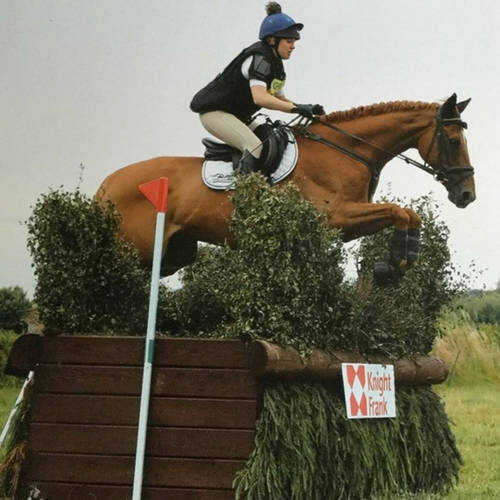 What is your favourite phase of Eventing?
Cross Country!! It's the only reason we (Sprite and I) do it.
What is the most embarrassing thing to have ever happened to you while riding?
At Wellington BE a few years ago on a very hot day, we had just finished the xc and as I've always been taught since my pony club years, I got off to loosen his girth and walk him back to the lorry. Sprite however had other ideas, he spooked at some hidden monster in the hedge as I was walking him back, reared up, knocked me over and ran off into the xc warm up arena to run around with all the horses warming up! I'm not sure what was most embarrassing:
1. whether it was the fact that a professional rider managed to catch Sprite, and had hold of him whilst he was still on his own horse, but I couldn't get near him as Sprite took one look at me and ran off out of the warm up and back onto the xc course
2. or whether it was the fact that the officials were trying to call an ambulance as they thought I had fallen off, then when I explained what had happened they went back on the walkie talkie with "it's ok, she just let go of her horse"
3. or maybe it's the fact that after we had caught him and got him back to the lorry, it took him all of 10 minutes before he had broken loose and was running round the lorry park!
Personally I feel it was his cheeky expression the whole time, I think he was having so much fun mocking us!
What is the best piece of riding advice you have ever received and who from?
"Enjoy it! At the end of the day we all do it for fun" – My old riding instructor and close friend Elizabeth Peerless.
Stay tuned to see what Caldene products Lucie is wearing this month and what her favourite picks from the new collection are.
Don't worry if you missed out this time our entries will open again at the end of the month to find our next rider so keep an eye on our Facebook page and it might just be you next month - we hope to hear from you then!