How to get a
Golden ticket?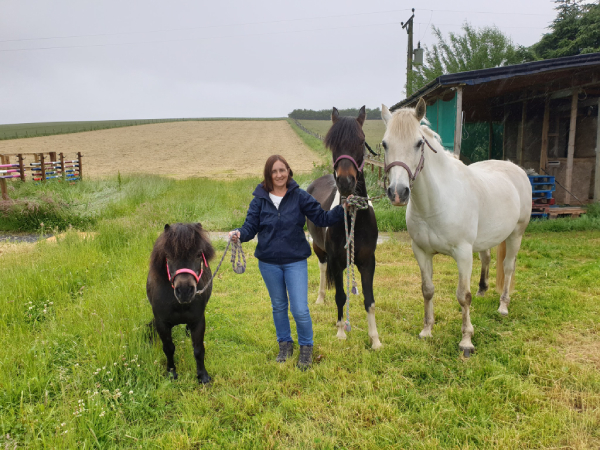 I won a horse trailer
worth £2.5k in the last Golden ticket prize draw
Shop
"I'm so shocked I've not won something like this before and was not thinking about winning, it was just nice to donate to charity. I definitely didn't expect to win a brand new trailer it's brilliant! My husband says he won't believe we've won until we actually collect it.

We have 5 horses, that are a mix of Arab, Welsh and Connemara. They are all youngsters that I enjoy raising and show in-hand around Scotland, so once Showing is back on again in Scotland, I will now be able to get back in the ring again.

I have a horsebox, that was becoming too expensive to run and getting out to shows again was looking unlikely so this is a real help. Winning this trailer means things will be a little easier for us and I can enjoy taking my youngsters showing during my time off from work. I work shifts for Asda, doing home shopping deliveries between 3am – 9am, which has been so extremely busy with the increase in home deliveries during the pandemic. I finish my shift then see to the horses before heading home to look after my 4 cats and husband of 28 years, Michael. My horses and 4 cats are our extended family. Winning this trailer means I can't wait to hit the show ring again, I'm really looking forward to the showing season now! I had to try really hard not to cry when Harry Hall first rang to tell me the news!"

Susan Campbell - Winner of a Horse Trailer Golden Ticket Winner 2021



Find out more
Are you ready
for the flies?
Shop new in
and you could win cash!