Harry Hall Ambassador Theo Funnell is longing to go eventing, having knuckled down through a bitter Devon winter... Well what a winter it has been... and we don't seem to be out of it yet... all our plans for our youngster Mac's first proper British Eventing (BE) eventing season keep getting scuppered! We were planning on doing Moreton BE80, Then Portman BE90, before doing Bicton BE90. Our favourite local event centre has been closed for a long time due to strangles, then the snow, and then Mac had an abscess... so not has not been chance to practise show jumping much as we had hoped.
Bicton is always a great, meaty, kick-on sort of track. We love it - an amazing venue and the staff and helpers are always so nice. Hence we would have liked to ease Mac in gently before going there, But he's feeling great at the moment and as the plans are all out the window now, we will kick on and do our best. We have been lucky to get in some great training recently. I did the BE under 18's training at Pontispool, These are super sessions, we really get a lot out of them. In the arena cross country, Mac was on fire! He jumped some big fences and even did our first jump into water. He loves water and took it on. I was also really lucky to have a lesson with dressage professional Amy Woodhead. It was amazing! Mac's trot has always been his weakest pace, especially noticeable as he has such a super canter. Within 20 mins we were trotting round like Valegro! Well not quite, but it was 100 times better and bigger, I've really worked hard on what she taught me and he's getting better and better every day. It's so important to have an instructor that makes a difference and that you can relate to. An inspiring trainer will send you away desperate to practise what you've learnt.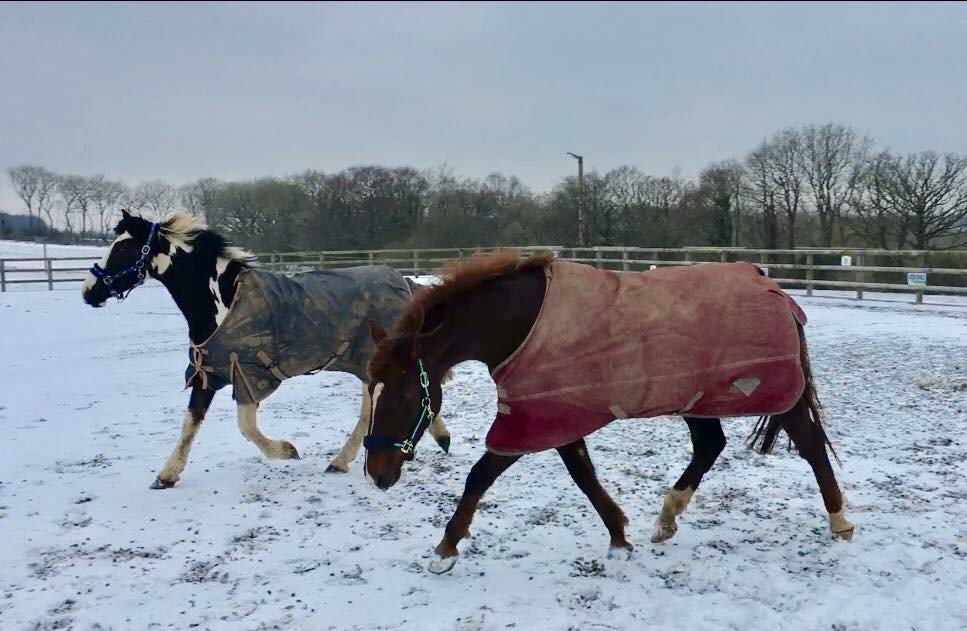 We have two new youngsters back in work. Skye is a lovely four-year-old belonging to us and our friend Jane Fisher. We backed her and rode her on for a week or so.. she is a super quick learner. It would be tempting to crack on but that wouldn't be good for her being so young, so she's been turned away and will come back to it when (and if?) the weather starts to change. Then we have Dora, who was backed last summer (in Ireland). We rode her a little when she arrived and then we turned her away for a few months, She has come back into work looking and feeling so much better, and far more relaxed. She just loves work and human contact so she is keen to be busy. For both babies we've been getting them used to all sorts of things, Loading in the lorry. We drive the car, tractor, digger etc round them, and do all sorts of ground work going over, under and through obstacles - meeting all the things they will start to meet in the big wide world.
I just wanted to mention about my little brother Sid. On his 9th birthday, near Christmas, we challenged him to ride a dressage test BAREBACK. He took up the challenge, he scored 69% and came 4th! he also raised over £200 for Willberry wonder pony in the process - we are really proud of him.
What we are using..
Here in Devon we usually only get a dusting of snow... well we had two big lots of it this spring! The first came with the 'beast from east'. It was sooooo cold days before, which did dry the ground up fantastically, but also froze all the water outside. It was a real team effort with the whole yard in 24/7. Dad was in and out or the kitchen with big containers of water making sure all the horses had fresh water all the time. There was an awful lot of mucking out too as the horses had to stay in due to their fields being frozen solid. It was bitterly cold! But my lovely neoprene Caldene wellies were warm and dry. Also Toby , Mum's 16hh Irish Draught, had a lovely new Matsa Stable Quiltmasta. Being an Irish Draught, his rugs normally look like mini skirts, but this new Masta rug is lovely and deep and kept him toasty in this weather.
If nothing else, this winter has taught me:
- Wellies - invest in good ones!
- Fieldmasta rugs are brilliant for a tough winter. They are very waterproof, not too heavy and the horses have no rubbed manes or marks on them! They all have a very thin underugs on too, as we have two each they can be washed regularly through the winter then our outside rug go in for a wash and reproof ready for following winter.
- Water containers and salt. With the recent weather we had frozen pipes. As we had big water containers dad was able to bring lots of water from the house very easily. We also kept salt handy to defrost the path to make for safe walking.
- Stoned gateways... I'm very lucky my dad is good with a digger! All our gateways have a hard standing area and all the access to the fields is stoned tracks! It makes turning in and out so much easier and safer!
- Try fun, useful and varied schooling exercises, As the nights are darker I am not able to hack as much as we would like thus being confined to the school more we like to keep everything interesting for the horses! we do lots of pole work exercises, lunge jumping, etc... so it's always different. We pick a theme to work on and they all do it that day then we will think of something else the next day as well as getting out and about to show centres as much as poss for a change of scenery.