Horse Public Liability Insurance
Do I Need Horse Insurance?
Owning a horse or pony is often a large investment, so it's important to have horse insurance should you experience lameness, illness, loss of use or an accident to your equine.
Horse insurance comes in many different forms and cover can include:
-          Veterinary fees
-          Theft/straying
-          Third party public liability cover
-          Permanent loss of use
-          Personal accident
-          Saddlery and tack
-          Even trailers and horse-drawn vehicles can be added to the policy  
There are several specialist horse insurers who will be able to provide a quote based on your specific cover needs. Some companies have policies that cover everything from foals through to veteran horses. Often their staff are equine specialists to help deal with complex veterinary issues should you need to make a claim.
The Harry Hall One Club includes Public Liability Insurance and Personal Accident* for horse riders, as part of the gold membership. When you choose to join The Harry Hall One Club, you will be covered subject to the terms of the policy and territorial limits, should for example your horse escape from its field or spooks while out hacking. Below are examples of claims made under an equine Public Liability policy:
-          A horse damaging a vehicle
-          An individual sustaining an injury whilst you are riding your horse
-          A horse injuring another horse or rider
-          A horse causing an accident after escaping the boundaries of the property
A number of Harry Hall One Club members have removed Public Liability cover from their horse insurance policy and saved towards the cost of the Harry Hall One Club gold membership in doing so.**
Currently, the Harry Hall One Club has three great types of membership to choose from.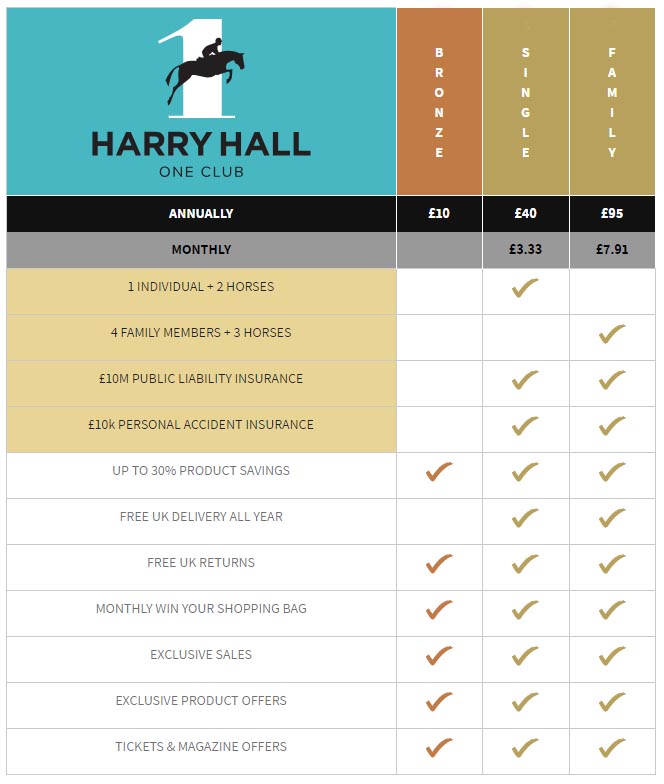 Gold One Club members get the additional benefit of £10million Public Liability Insurance, £10,000 Personal Accident Insurance and free delivery on all purchases all year round with no minimum spend. As the traffic on UK roads increases, we recommend that you have horse Public Liability Insurance, as you can never be sure what is around the corner when out hacking, leading your horse or caring for horses owned by your friends or family.
If you are travelling with your horse regularly it is recommended that you have Public Liability Insurance for your horse. As a horse rider, should an incident occur which results in an injury to a member of the public, or causes damage to their property, the Public Liability insurance would cover you against subsequent damages awarded against you should you be found legally liable. The policy would also cover the legal costs incurred defending an action brought against you by a third party.
Due to recent changes in the law, the cost of liability claims have increased in the UK over the last five years. Therefore, without this valuable cover, your personal assets would be at risk should you be found legally liable for an incident involving your horse.
Even if you ride your friend's horse or loan a horse, it is recommended that you have Public Liability Insurance so that you are covered in the event of an incident taking place while you are riding their horse.
For more information on The Harry Hall One Club or to join please visit – www.harryhall.com/oneclub or call our experienced customer services team on 01274 711 100
*Terms, conditions and territorial limits apply. Harry Hall International Limited are an appointed representative of South Essex Insurance Brokers Limited who are authorised and regulated by the Financial Conduct Authority. Third party property damage excess of £250 applies to each and every claim.
**Based on customer removing Public Liability Insurance from their equine insurance policy, in this example the customer saved £80 on their policy.