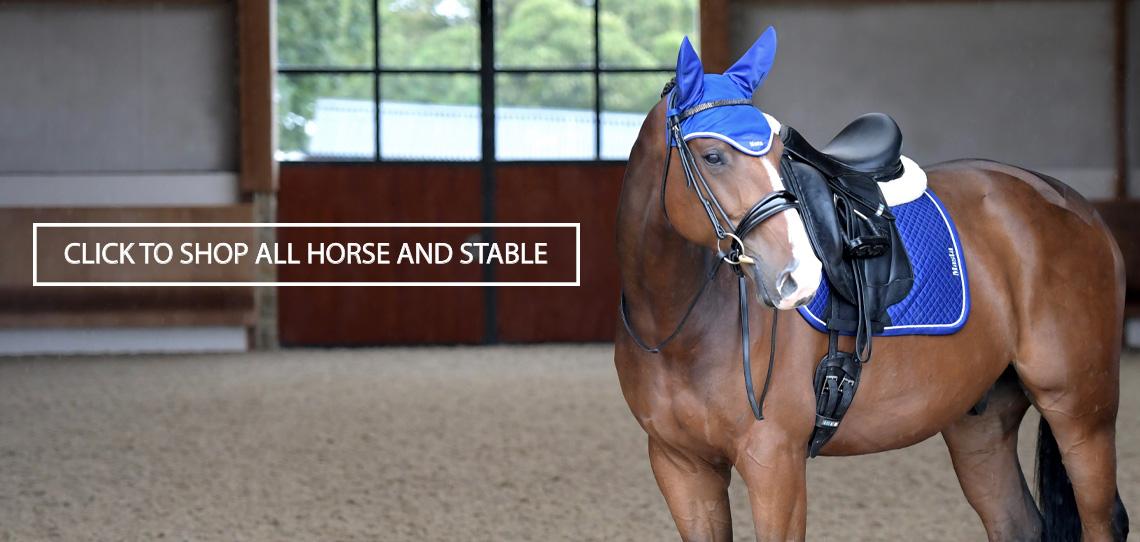 Horse and Stable supplies
From horse rugs and saddlecloths through to reins and bridles, our range of horse wear and horse accessories will satisfy both the everyday and competitive rider, whatever the discipline. We stock products from famous brands such as Caldene, Masta, Harry Hall, Cottage Craft and Tottie which are all part of the Harry Hall family. Our horse accessories and stable equipment collection has been designed by horse riders, for horse riders.
Horse Rugs
Masta turnout horse rugs are unrivalled in durability, comfort and style, so that you can find the ideal one for your horse. An essential piece of equipment and available in several colours, sizes and designs, no matter what the British weather throws at us! View the range of stable rugs, therapy rugs, fleece rugs and many more to find your perfect fit and style.
Supplements
When extra care is needed and you want to maintain optimum health, Mastacare has your horse's well-being in mind with a range of general health supplements keeping them fit, happy and healthy. Full of vitamins and minerals you can be sure that you are feeding your horse with natural ingredients. Our carefully developed collection includes supplements for mobility and vitality, along with digestive and respiratory support.
Therapy
The Protechmasta Therapy range uses Far Infrared therapy to help your horse prepare, perform and restore. Far infrared radiation is a natural process and is scientifically proven to gently and safely assist blood circulation, therefore, helping to reduce any swelling, ease muscle tension and support recovery and help in the prevention of injury.
Grooming
Harry Hall are proud to be home to all your essential horse riding equipment and are pleased to offer an extensive range of high-quality horse grooming equipment. Keep your horses coat in top condition with a variety of brushes, shampoos and sprays to help tackle the mud lovers out there!
Horse wear
Ensure that you're fully equipped with the very best horse wear available from Harry Hall. With everything from saddlepads to numnahs and fly masks to head collars, you'll have everything you need for your rides and will be able to perform to your highest possible standard.
Stable
Our stable accessories are ideal for those looking to ensure they have everything they need to care for their horse, from haynets and shaving forks to bucket covers we have everything covered.
Boots & bandages

At Harry Hall, we are pleased to stock a fantastic range of high-quality horse boots. From our range of horse travel boots which are soft and supportive, to tendon, fetlock and overreach boots you are sure to find what you are looking for. Our horse boots range will have something for your needs from hacking to going cross country and all our horse boots come in pony to full size. 
Bridlework
Whether you are looking for a leather competition bridle, an everyday bridle or a specific bridle type for a competition, we have a broad range available online. All our leather bridles are developed for maximum comfort and durability no matter what your needs and with a range of colours available including black, brown, havana and patent croc finishes there is sure to be something to suit your horse and your style. The collection also includes stirrup leathers, nosebands, browbands and diamante browbands for that extra bit of sparkle in the ring.