Welcome to:
Masta has over 30 years' experience in making horse rugs that are designed to perform and last. We're immensely proud of the innovation incorporated into our award-winning rugs and horse wear. Why not take a look at our Protechmasta range, scientifically designed to enhance your horse's performance.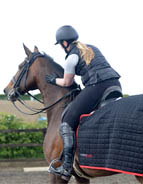 Top Pick
Protechmasta Quarter Rug
£95.00 
Masta is the first choice for horse rugs. From turnout to stable rugs, travel rugs to fly rugs. High end materials, innovative design and functional styling combine to deliver the best horse rugs Masta has ever offered. The Masta range is innovative and diverse with many new designs and concepts to make rugging up quick, easy and secure. Masta also has an extensive range of travel, brushing, fetlock and over reach horse boots as well as dog coats. Whatever the requirements of the modern day horse owner, Masta continues to offer one of the most extensive ranges of horse rugs in the world.