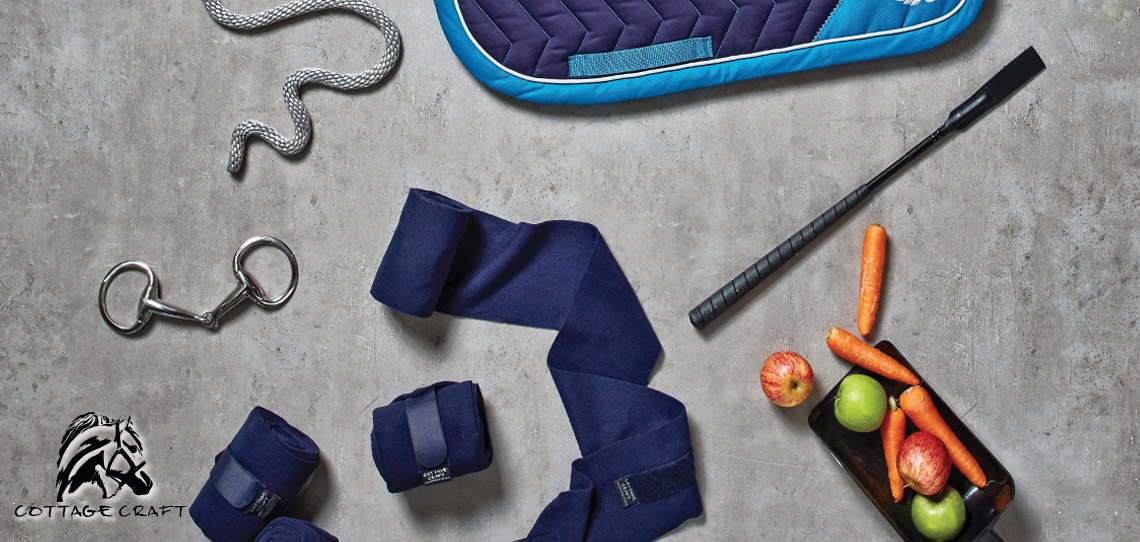 At Cottage Craft we provide an extensive range of practical items and horse riding accessories such as brushes and combs, leads, stirrup leathers and a variety of horse bandages. Our quality, durable designs mean Cottage Craft kit can be found in almost every yard! 
Cottage Craft Grooming
Cottage Craft have a wide range of horse grooming essentials for all horse owners and lovers. Keep your horses coat in top condition with a variety of brushes, combs and mitts to choose from. Whether you're looking for individual brushes, a first grooming kit or a secure storage bag for all your brushes, your ideal horse grooming product is sure to be found in our grooming collection.
Cottage Craft Bandages
Our range of horse bandages include exercise bandages, stable bandages and fleece bandages all of which are made from high-quality materials to ensure durability and maximum protection. Our bandages come in an array of colours so you can ensure your horse's outfit matches as well as being protected. 
Cottage Craft Saddlecloths
The Protechmasta Therapy range uses Far Infrared therapy to help your horse prepare, perform and restore. Far infrared radiation is a natural process and is scientifically proven to gently and safely assist blood circulation, therefore, helping to reduce any swelling, ease muscle tension and support recovery and help in the prevention of injury.
Cottage Craft Grooming
Our extensive range of horse wear includes a selection of numnahs, saddlecloths, saddle pads and half pads for a variety of disciplines. Our range includes breathable numnahs, saddlecloths, half pads and all in a variety of colours for you to choose from. A high-quality numnah or saddlecloth is an essential item to help your horse feel comfortable and protected throughout their back whilst out riding, schooling or competing. 
Cottage Craft Horse wear
Ensure that you're fully equipped with the very best horse wear available from Harry Hall. With everything from saddlepads to numnahs and fly masks to head collars, you'll have everything you need for your rides and will be able to perform to your highest possible standard.
Cottage Craft Leatherwork
Our Cottage craft leatherwork offers excellent value and is perfect for everyday use. All our leather bridles are developed for maximum comfort and durability no matter what your needs and with a range of colours available including black, brown and havana there is sure to be something to suit your horse and your style.
Cottage Craft Headcollars
Our horse headcollar range comes in a variety of sizes and colours, starting from pony through to full size, there is sure to be a headcollar suitable for your horse. Our horse headcollar range comes in a large array of colours ensuring there is something for everyone; we also offer matching lead ropes for most of our designs.