Harry Hall stock a range of pony rugs, all designed to fit ponies between 4ft 6 and 5ft 6. Protect your pony from the elements with a new Masta rug.
Pony Rugs, Coolers and Fleeces
Harry Hall stock a range of pony rugs under the brand name Masta, available in a selection of sizes from 4ft 6 to 5ft 6. Protect from all weather conditions come rain or shine with a new Masta rug. These are suitable for all types of ponies and in a wide selection of colours so you can be sure to find something that suits.
Masta have been developing rugs for over 30 years and our rugs are designed to be durable and robust, all with fully adjustable straps. We have a large selection of pony turnout rugs and pony stable rugs. The Masta pony turnout rugs are waterproof and come with a fixed neck or standard neck to ensure there is a rug to suit your horse.
Our collection also includes pony fleece rugs like the well-known Coolmasta rug. This can be used before or after exercise, for travelling, or after a bath to help prevent chills. We also have a range of pony fly rugs to protect from flies as well as fleece rug liners to keep your four-legged friend warm in the colder months.
We recommend the Masta rug wash bag for your pony rug so you can wash base layers and fleece rugs at home without hairs getting stuck in your washing machine.
Using a soft-fabric measuring tape measure from the centre of the horses chest in a straight line to the furthest rear point of the rump, ensuring not to measure around the tail. Please know that sizing guides are available on our products.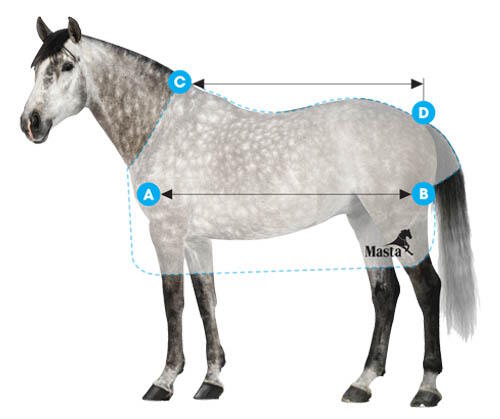 Shetland ponies do not need rugs, in fact this can actually hurt natural insolation.
After you have followed the steps above and measured your horse, you will be able to use our sizing guides with products to work out what size is needed for your horse.
Whether or not your ponies need rugging is dependant on weather conditions and what rug you own.