Some 20 visitors joined the latest Harry Hall Yard Visit to a leading national hunt trainer's yard. They were lucky enough to win a free pair of tickets to spend a morning touring the gorgeous Cotswold yard of trainer Tom George.
Based at the yard he has built over 25 years at his childhood home in the Slad valley, Tom has trained over 500 winners, with recent notable stars including Nacarat, God's Own and The Romford Pele, winner of the Veterans Chase at Aintree last month.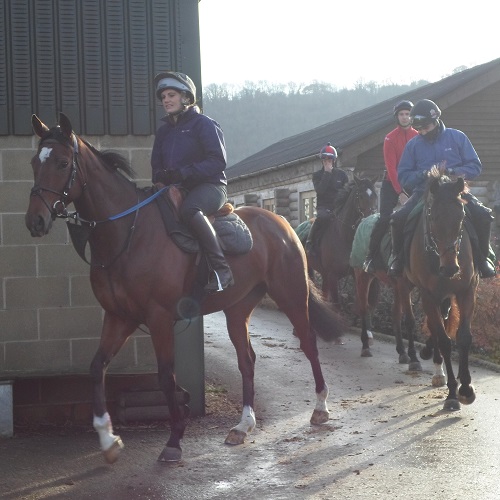 So what did we learn on our visit?
> Tom started out by converting six former pig pens into stables - and adding to them gradually. He now has 82 boxes, some of them old, some new, some in a barn, some outside in a row, but almost all with windows at the back to allow lots of air to circulate. "I like that I've got a bit of everything," says Tom. "I'd be very nervous if I had all my horses in one big barn if one of them started to cough…"
> Down Farm (Tom's yard) had the first prototype Haygain steamers, and still has three of them in action to steam haylage before it's fed. "It's probably not necessary to steam it, but it rules out everything — every [potentially harmful] spore and so on," explains Tom.
> Keeping horses healthy and infection free is vitally important to every training yard, with horses travelling about to the races so much. Tom's horses have plastic work bridles (though they look like leather to the eye) which are disinfected every day after use. Every horse has a clean girth sleeve and saddle pad every day for the same reason.
> Where possible, Tom likes to give away horses to trusted new homes after they've finished racing, to go hunting and so on.
> A big biomass boiler is being installed at the yard, with a view to using dried out manure and muck from the stables to heat all the properties on the yard. Brilliant!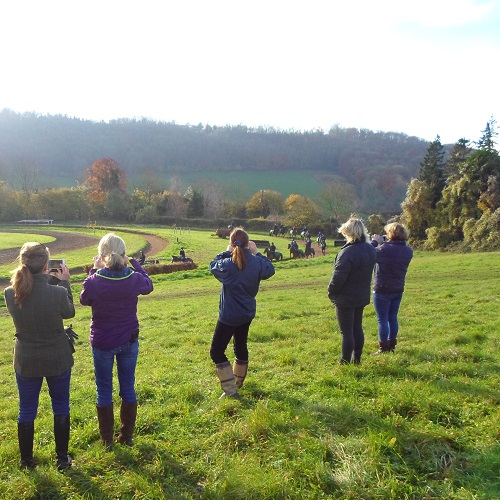 > After a horse has run a race, they are fed electrolytes that evening, and are given two days off in the field. Then they'll start work with a hack into the village before picking up their training routine again. As Sundays are a day off for horses, their usual cubes are substituted for 'Lay Off cubes' to stop them from tying up.
> Turn out time is an important part of Tom's ethos. "We have 16 turnout paddocks and they're in constant use," says Tom. He puts sheep in them every three weeks or so for a while to eat the bits of grass the horses dislike. The Georges have lovely large summer turnout paddocks on the side of a hill. "The horses drink from the stream at the bottom and climb up the hill to escape the flies in the shade of the trees, so they are always on the move," says Tom approvingly.
> This is very much a family enterprise. Tom's wife Sophie had to tow a trailer to Wetherby (Yorkshire) and back in a day recently when a lorry broke down, and their eldest son Noel is spending his gap year racing and riding out on the yard.
> Horses are weighed every week on a weigh bridge at the yard, and this can tell you a lot about how hard a horse has found a race - and thus what recovery programme he needs. "You might find they've lost 7 or 8kg in a race, or some might lost 18kg if they've had to put a lot of effort in," explains Tom.
> Attention to detail is evident in so many areas on the yard. Haylage is also tested regularly - lately it's been found to be slightly deficient in potassium so this is being supplemented in the feeds. And boy do these horses look good on their regime!