5 Reasons why volunteering with the RDA could help you
At Harry Hall, we're always looking at how we can do more for the community - that's why in 2021, we asked our One Club members for their favourite good causes - before asking them to narrow it down to three charities, that we worked closely with - throughout 2021; you can find out more about Charity Partnerships here.
Time well spent at an equestrian charity
As one of our charity partners for 2021, we find out why volunteering for the Riding for the Disabled Association (RDA) is so good for you
RDA's horses benefit the lives of 25,600 disabled children and adults all over the UK. And throughout their fifty-two-year history, dedicated volunteers have been an integral part of delivering this work. The charity is rightly proud of the time, energy and commitment that its 500 groups and 18,000 active volunteers give to help transform the lives of people with disabilities.
As part of RDA's 50th-anniversary celebrations, the charity commissioned some new research into the benefits of volunteering with them. Having understandably focussed on the benefits for riders and carriage drivers, the impact on volunteers was less well understood. The results of their study highlighted the profound and wide-ranging ways that spending time with the horses and humans of RDA can make a real difference in your life.
Volunteering with RDA is a great way to get out and meet people – while doing something really meaningful at the same time.
Carol Williamson was looking for a new challenge after her daughter (and her daughter's dog!) left for university: "It left a big gap in my life. There was always something to do when they were around, and suddenly I wasn't the busy mum I had been. You might think I was lucky but it didn't feel like that. I would say I was lonely, and a bit isolated. I noticed I had started going to bed earlier and getting up later as I didn't have anything to get up for.
I had been a volunteer with RDA before, but the group closed down so I stopped going. So when I got a call from one of the volunteers saying they had set up somewhere else and would I like to come along I jumped at the chance. Thursdays became the highlight of my week. That was two years ago and the clients still make me smile every time.
I've made new friends, helped with competitions and RDA holidays and I'm now even an RDA carriage driving coach. It has even given me the confidence to get my own pony – so now I have a fulfilling home life again as well, and I always have something to get up for in the mornings."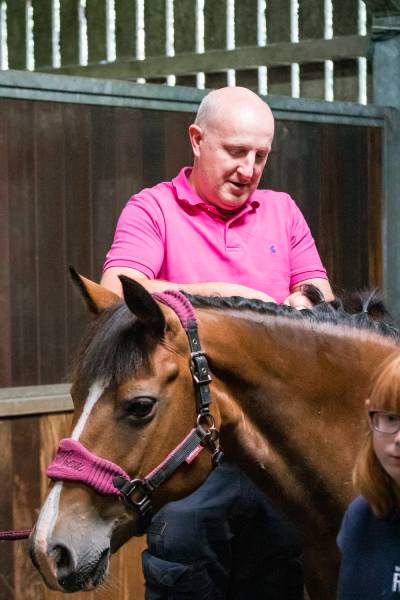 Horses can boost your mental health
Approximately 1 in 4 people in the UK will experience a mental health problem each year. In England, 1 in 6 people report experiencing a common mental health problem (such as anxiety and depression) in any given week.
RDA volunteers were asked if and how volunteering with RDA makes an impact on their self-esteem and overall well-being. The results show that their volunteers feel generally better, happier, more confident and more useful as a result of their time with the charity: 81% say it makes them feel better about themselves, 84% say it makes them more cheerful, and 92% say they feel more useful.
Volunteer Judi Singer shared her experiences with us:
"I was severely agoraphobic, but being a horse rider I joined my local RDA Group in Surrey as I felt it would help me change my life – and it did! To start I was only happy leading at the horse's shoulder, not talking to anyone, and then progressed, through the kindness and understanding of my colleagues, to being able to join in the fun that everyone was having.
Through the RDA volunteers' non-judgemental understanding I am now able to go anywhere, speak to anyone, chair meetings and speak in public. Thank you, RDA!"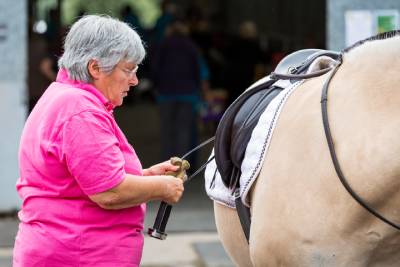 We all know the best kind of physical activity is the one you don't notice you're doing. The average RDA volunteer says they walk for at least an hour as part of their weekly session – and there are plenty of other jobs to keep them active too. Tacking up, getting horses in from the field, picking out hooves – it's like a free gym membership, with horses thrown in.
Like many of us, Val Shone spent her working life sitting at a desk, and her physical health had suffered as a result. "By the time I stopped working I was very unfit and overweight and I really wanted to get more active. I saw an advert for volunteering with Stratford RDA in a local shop and it seemed like just the thing I was looking for. Now I go there every week to support riders by walking alongside them while they have their lesson. When they do trotting we even do a short run. When I started it was just about as much as I could cope with but now I find it much easier.
My fitness has definitely improved. RDA has made me more confident to try other things too. I've even joined a gym – something I thought I would never do. And it has encouraged me to take up riding again. I hadn't ridden for forty years and never dreamed I'd be doing it after I retired."
RDA's research demonstrates the dual benefit of volunteering – being able to make a difference in other people's lives, and benefiting yourself too. During this last year, we've all witnessed first-hand the vital role played by volunteers in all kinds of ways in our communities and understood perhaps better than before how important volunteering is to support people who need a helping hand.
RDA faces a challenge to help all its groups to reopen and recover from lockdown – and one thing they're definitely going to need is more volunteers. If you're looking to meet new people, feel better about yourself and get active, you could do worse than look up your local group and see if they need your help. You'll be glad you did.
To find out more about volunteering with RDA, and to find your nearest group, visit RDA's find-a-group page.