Brooke: Inside the world of horse charity work
Brooke: Inside the world of horse charity work
Brooke is an international animal welfare charity dedicated to transforming the lives of vulnerable working horses, donkeys and mules and the people who depend on them. For millions of people around the world, working equines are the backbone of their communities. Without healthy working horses, donkeys and mules, they wouldn't be able to put food on the table, send their children to school or build better futures for themselves, their families and their animals.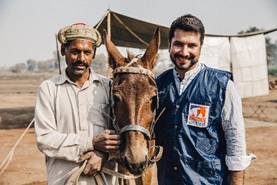 Brooke works to deliver lasting change. We use our expertise to train and support owners of horses, donkeys and mules, local vets, farriers, harness makers, animal traders and more to improve standards of care. We work with governments and international organisations to bring about policy change to make lasting improvements to animal welfare.
Take Rafiq as an example. Rafiq works with his young donkey in a Brick Kiln in Narowal, Pakistan earning on average 600 rupees (about £6) per day to support his wife and young children.
When his donkey became ill, he called Ilyas, his local Brooke trained vet, and explained that his donkey was ill and could only sit, roll over and cough. Ilyas advised Rafiq to keep the donkey in the shade, to avoid giving medication and that he was on his way. On arrival, the donkey was found to be in severe pain, dehydrated and diagnosed with colic.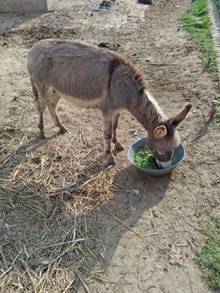 The little donkey was immediately given pain relief, and was treated for dehydration and colic, as well as a secondary infection and intermittent fever. He was also given time off work to rest and recuperate.
Taking this opportunity to educate Rafiq and his community, Ilyas explained the donkey's pain and suffering was due to colic, caused by feeding rice husk and other dusty feed. Realising that his donkey could have died, and seeing the financial loss from his donkey's time off work, Rafiq and the community are now following Brooke's advice to feed green fodder instead of rice husk to keep their hoses and donkeys healthier and prevent future respiratory illnesses.
Fortunately the donkey recovered well and can be seen in the photo enjoying his new diet of green fodder.
How your support helps:
£8 could buy a first aid kit. Packed full of essential tools to help treat wounds and injuries, a first aid kit will help owners to act quickly and treat their working animal if they get hurt.
£19 could provide lifesaving food in a drought. An essential seed kit lets owners plant drought resistant crops which will grow to provide essential food, so animals and people have enough food to eat to survive a drought.
£30 could buy three portable water troughs. Fresh water is hard to find in the harsh environment of a brick kilns, portable troughs provide working animals with a much needed drink wherever they are.
£48 could provide vital vet training. Many animals need access to professional veterinary treatment, and Brooke teaches vets and other animal health practitioners the skills needed to treat ill or injured horses, donkeys and mules.