Now in the third month of our Caldene Rider Of The Month programme, we are continuing to celebrate achievements, support talent and pick someone up for the month. We thought it was time to get to know our latest rider Gayle King.
Why did you apply for Caldene Rider of The Month?
Darcy and I had a successful outing at the Area Festival Finals at the end of October where we placed in both classes and also qualified for Hartpury in April. We have worked really hard this season and we already have many Caldene products from over the years so I thought I'd try my luck as I already know and trust the brand and I was genuinely surprised to have been chosen!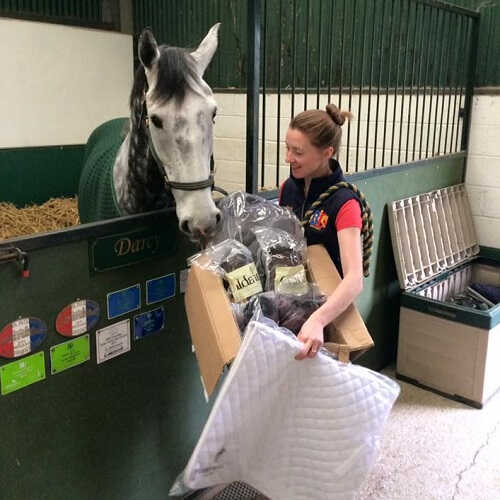 What do you look for when shopping for new equestrian clothing?
I have a few key things that I look out for.
•Quality
•Value for money
•Those extra details that makes the item more individual
•Comfort
•Practical
•Washable
Like most people I do love a bit of shopping! I have over the years tried most brands and find myself aIways coming back to the same ones. I love items that are a little different from the "norm" and have those finer details which make an item stand out. I don't have a huge amount of spare time or money so I don't want to be replacing items too often. I like to try and look smart and practical.
Reading this back - I realise I actually expect a huge amount...
What's your favourite pick from the Autumn/Winter Caldene range?
Ooo this is a tough one - am I allowed 2? It's between the Sofia Soft-shell jacket and the Plum Ede top. Whilst the jacket is lovely with super cuffs which keep the hands toasty and the pleat down the back makes it easy to wear the whole day, but I think the Ede top just pips it. I love a base layer - especially this time of year and this is one of the most comfortable tops I've worn. The detail on the back makes it very wearable and comfortable whilst riding but also smart and doesn't look out of place on the school run (I often run from saddle to school).
If you could describe Darcy in three words what would they be?
Quirky, trusting and handsome.
What's your aim for next season?
To continue to build strength and consistency in our training. We have lots of outings to look forward to such as Winter Regionals in March and Petplan Nationals in April. We will be aiming for selection in both the Inter-Regional and Home-International teams at Elementary and starting on Medium outings too. When it comes to results, we can only try our best but it's all in the preparation!
What is the most embarrassing thing to have ever happened to you while riding?
There is genuinely so many!
One, however was when I was little and riding back up in Scotland. We went swimming on the horses in the sea. I had this super pony called "Peanuts" and she was the Micheal Phelps of the horsey swimming world. We were out so deep that I was just floating with the reins in my hand. All was great until the way back in. Now swimming is basically the gallop legwork under water and dear Peanuts continued this movement through the shallow water and onto the sand and proceeded to bolt up this beach with the others shouting for me to stop. This was also top of my priority but not my ability. As the dunes and car park approached I decided to turn her in a last ditch approach to slow her down. However I fell off and landed on my bottom on the only bolder on the beach. Peanuts was finally caught and looked like she had a brilliant time and I had a very sore/bruised bottom and pride!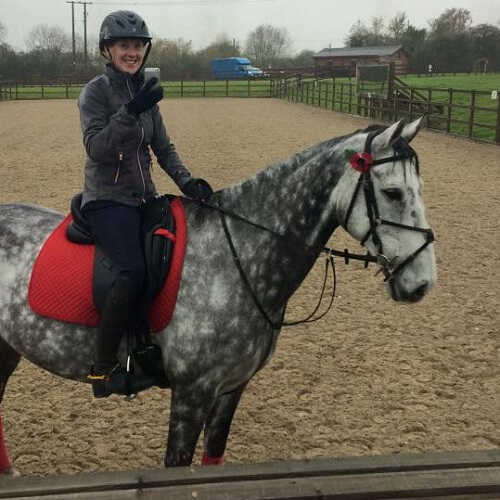 If you could ride any horse dead or alive right now who would it be?
It would have to be John Whitaker's late Milton. He was the horse that captured my interest in horses when I was younger. My whole room was covered in posters of him and watching him in action was simply memorising. I wanted to be an International Show jumper when I was younger and this is all because of Milton. Although I have now gone down the dressage route, it was Milton that fuelled my love of riding in the early days.
What is the best piece of riding advice you have ever received and who from?
This is hard as over the years I have been given or learnt some great advice from some wonderful riders.
I can't remember who exactly it was but in my Pony club days I certainly remember being told that " We can't expect our horses to put in 100% if we don't" and this is such a simple bit of advice that I truley believe in and which works for any level and discipline that we do with our horses.
What is your best tip for training youngsters?
Everyday is a school day so teach them to trust and not fear you as a rider. When things don't quite work, support them and help them and when things do right, praise them and built their bucket of confidence up so it can take the odd spillage but still be okay.
What is an important aspect of your training?
Quite simply a good trainer! My trainer Olivia Oakeley has been a vital part of my education as a rider. As much as I train at home, the training sessions I have with Olivia make sure I'm still asking the correct questions of myself and my horse which means we can continue to progress correctly.