Harry Hall Junior Rider Milly Dove describes the exercises she's been using this winter, and recounts how she's coped with the challenge of a powerful new young horse...
This autumn and winter have been really good for me and my ponies. Tinker has been developing a medium trot and Ella, my new young warmblood, and I have really gelled! Not only that but I've had lots of Harry Hall's superb products which I have lived in.
Stepping up to a new horse with power
My new mare Ella, who I got in the summer of 2016, is a massive step up from what I am used to. I have been fortunate to have a variety of ponies to school, in addition to my first ponies, which has given me a reasonable amount of experience of tricky ponies. I am also lucky to have a lesson almost everyday with my dad, who is also my trainer, and regular lessons with Mary Wanless.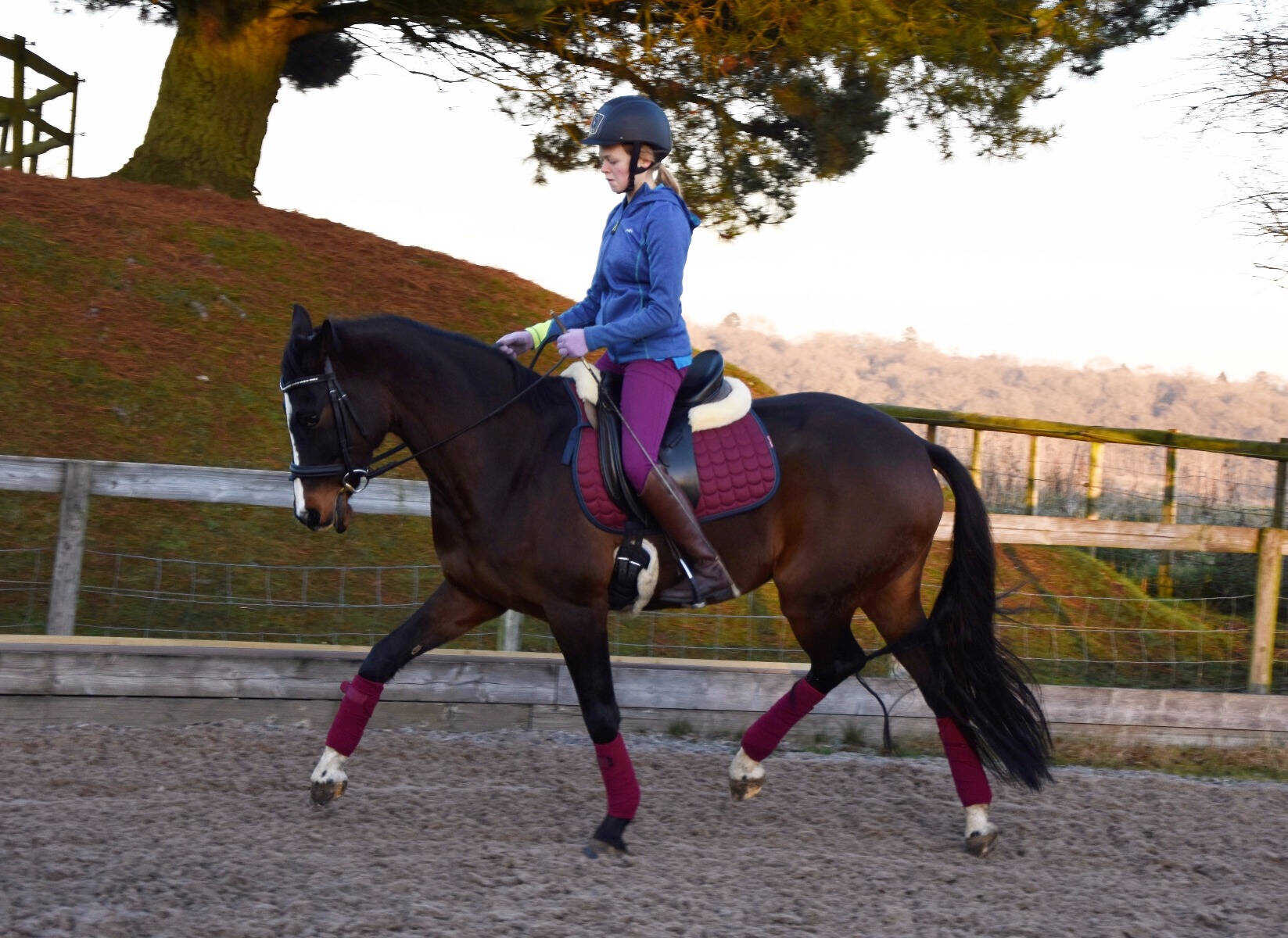 However, my move from an average pony to my first talented, powerful horse was a big step. It has taken me longer than I would have liked to build up the tone, knowledge and experience to change from being her passenger to her rider. Initially, I was getting frustrated with the problems we were having but now I have learnt to become a lot less expectant of her and to expect more of myself. I have become a lot better at becoming the rider I need to be to influence her. Focusing on me, and not on her, has made the whole picture more harmonious. It has changed us into a partnership and we no longer look like we are still finding each other's buttons.
Why I love pole work besides dressage
Although I usually don't have the problem of the horses becoming bored while schooling, I like to give them some variety in their work, popping over a jump and occasionally letting them have some freedom and a gallop. That always blows away any cobwebs!
Pole work is my favourite activity for any horse to get them sitting and pushing off without any stress. It is one of my main tactics for on-the-forehand horses, the ones that have trouble tracking-up or for teaching the push needed for the harder movements. When jumping I try use small grids to get Tinker to sit on her bottom and think about herself more.
Goals for the year
Both Tinker and Ella have qualified for the British Dressage Winter Regionals at Prelim level. Ella scored 73.8% and Tinker 70.2% in the qualifiers. Tinker has reached a stage where her Prelim scores are nearly always 70% and so we are doing our first Novice test this weekend. We plan to qualify Ella for the Summer Regionals at Prelim and Novice levels.
My aspirations for this year are to move up to Elementary level with both horses and to start competing my Mum's pony, Lottie, at Prelim level. Lottie is a very talented pony but can sometimes be a bit stroppy! I also hope to go to Hartpury College with my two horses. This will allow me to take my A-levels as well as continue my riding career. My ambition is to get into Hartpury's Elite Equine Squad which requires points at Medium level so we have lots to work on. However, I know that my ponies always try hard for me and make my rides enjoyable!
What I am wearing….
My go-to, reliable pair of breeches are my Harry Hall Sculpting Breeches. When it's cold they are snug and when it's warm they are breathable. No matter what numnah and bandages I have on the horses (because I have a slight matching set obsession) they go with them. They are smart, stylish and noticeable. I always get comments about them when I'm on social media. I now have two purple pairs and a navy pair because I honestly believe you can't have too many! I ride in them several times, every day and when I got them out the wash the other day my dad thought they were the new ones. They are very well made breeches and true to size. I also love my Chester jodhpurs which are bright and warm.