Oaty Apple Cakes:
These yummy treats are the perfect treat for any horse or pony. They are fully of oaty-goodness and provide high fibre with low energy, so are perfect for any temperament.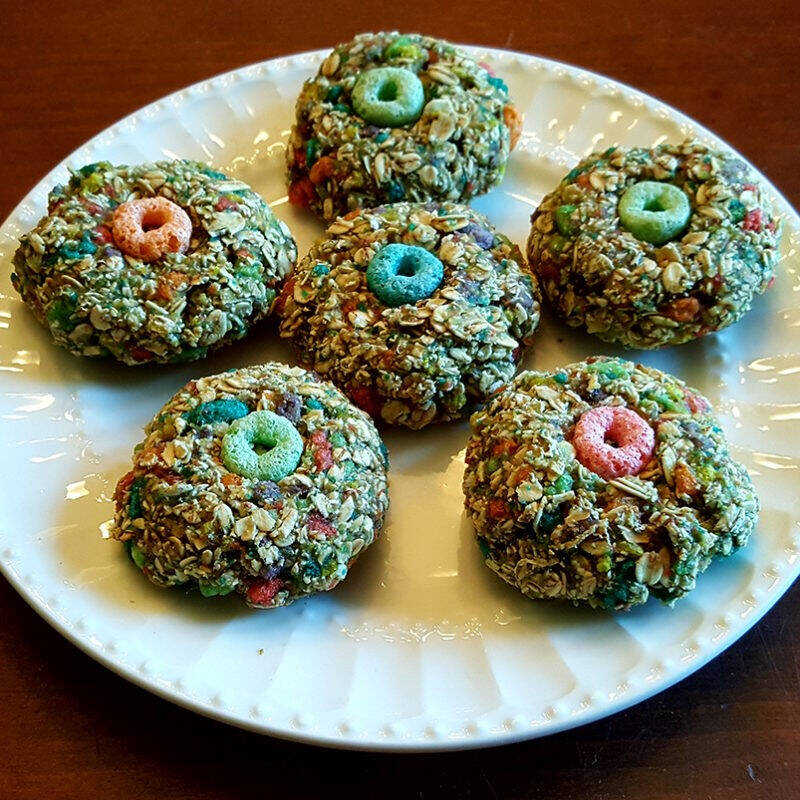 Ingredients:
Makes around 20 treats. Want more? Double it!
1 ½ cup old-fashioned oats
1 ½ cup crushed of your horse/ponies favourite treat or mint. (I used crushed fruit loops cereal)
½ cup applesauce/apple puree
1 table spoon of cinnamon
1/4 cup plain or whole wheat flour
1/4 cup dark brown sugar
Get Cooking:
Preheat oven to 350 degrees.
Put all ingredients into a big mixing bowl. Use a mixer to thoroughly mash it all together!
Shape the mixture into little cakes, whatever shape you like. You could do, hearts, circles or even horse shape!
Place them on a non-stick baking tray. You can add some extras to the top, such as as piece of apple or a mint. Press it into the centre of each one. I used a fruit loop!
Bake for 14 minutes until they are crispy but still soft.
Let cool for at least an hour before giving these delicious treats to your horse/pony. Keep them in the fridge to keep them fresh and make them last longer.
Most of all, enjoy!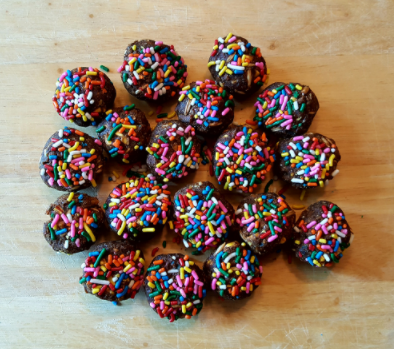 Minty Peanut Muffins:
These minty-fresh molasses muffins are perfect for that special occasion where your four-legged friend deserves a little extra.
Ingredients:
Makes around 20 treats. Want more? Double it!
1 cup of pasture mix, or any other mix that your horse has.
1 cup of whole wheat flour
1/2 cup of creamy peanut butter
1/2 cup of molasses
1/4 cup of water
½-1 pack of your horses favourite mints (crushed)
Sprinkles or crushed mints, for decoration
Preheat oven to 325 degrees.
Use a mixer to gently combine the flour, pasture mix, crushed mints and peanut butter.
NOTE: if your horse has a nut allergy, you can replace the peanut butter with an additional 1/2 cup of molasses.
Then pour in the water and molasses while the mixer is running.
Using your hands, roll the dough into bite-sized balls.
Then press and roll the treat balls into the sprinkles or crushed mints as a yummy topping.
Place the muffins on a non-stick baking tray, and put in the oven for 10 -12 minutes.
Once they are finished cooking, let them cool for an hour before storing and serving to your horse.
I hope you have enjoyed these recipes, and have a go at making them! They are super easy and very cost effective to make.
Let us know @mstouteventing and tag me and @tottie_clothing in your pictures of these yummy treats, if you have a go at making some!
Maddie, Jet and Dude x x x