Winter is always a tough time for us equestrians – no matter how dedicated we consider ourselves to be, it's so much harder to wake up on dark mornings to go and see our beloved pets. Not only that, but the loss of sunlight by 4 means after work we just want to crawl into bed and we constantly question our sanity as we wait for hours in the cold, dreary rain on a weekend day for our class to finish at the local competition.
So, why do we bother? The answer is that the eventing season begins in March and that is only a few weeks away! It's now time to blow away all the winter cobwebs, to get our eyes back in for the trickier lines and to brush up on the dressage. For me, this means squeezing in as many lessons in showjumping and dressage as I can.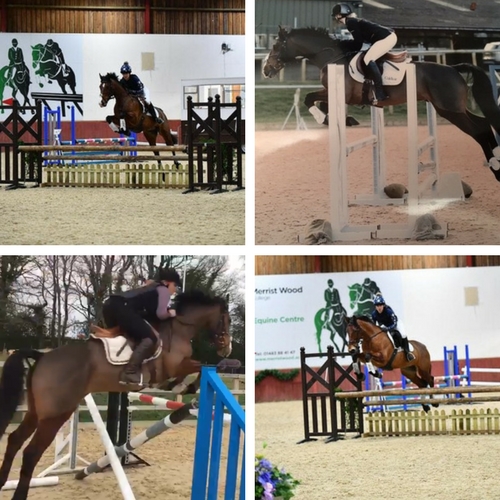 The biggest lesson I have to practise this winter is focus. When competing, I notice myself becoming distracted by everything; from what's going on outside the ring to what thoughts are running through my mind. In a dressage test, this often means I'm thinking about the 15m egg shape I did three movements ago rather than the medium trot I'm about to ride. Or in the showjumping ring I'm thinking that if I get a clear round I wonder where I'll hang my rosette, as I ride a very dodgy line to a big oxer. Learning to focus on the moment and allowing myself to feel the horse, is what I think will make the biggest change for me this season.
This weekend my dressage instructor gave me a lunge lesson on her schoolmaster. I was apprehensive, wondering what I'll learn on her horse that can already do everything, when it's my horse who I can barely get to soften that I need to practise on. But what she taught me in the hour long session of rising trot with no stirrups was the importance of focusing and being aware of your body. As I bounced around in circles, doing forward and backward strokes with my arms whilst counting every step the inside hind leg made, I struggled to find how I could relate this back to my dressage test. However, doing this helped me to practise adjusting various parts of my body whilst my brain attended to something different. In terms of feel, I needed to keep my body in the right position so that I could keep my balance. Then I had to focus on swinging my arms in opposite directions, very slowly. Then my brain was thinking about the feel of the trot so that I could tell when the horses hind leg was stepping under me. It was a really insightful lesson and something I encourage others to give a go!
How will this apply to my day-to-day riding? When I returned to riding my own horses, I focused on what my body is doing in the moments I feel softness and impulsion. Rather than end up in a flap because I'm doing too much while the horse does nothing, I hope I will be able to produce a much clearer message to the horses to help them find a point of comfort. I've already noticed a difference in a few short days, with Oscar picking up a rosette at a local evening dressage competition!
And of course, there's no better way to do your winter riding than in the Caldene Ede training top, with your Rea gilet to keep you warm.