Meet International Dressage Rider & Trainer Steph Croxford
When Steph Croxford first sat on a four-year-old chestnut horse, she thought he trotted funny. Little did she know he was doing a dressage move called Passage. Fast forward a few years and together they competed for Great Britain in Europe and all over the world. They were shortlisted for the Beijing 2008 Olympics and became accustomed to taking home rosettes and sashes whenever they competed. The four-year-old horse who could Passage effortlessly, would turn out to be Mr President and together they re-wrote the rules of dressage.
In this article, we chat to Steph, hear about her journey between the white boards and get to know a little bit more about her horses and her view of the equestrian world
"My favourite thing about dressage, is the fact that when you've gone and done a really good test, you come out and you don't know your score because you love your horse and you've just won the Olympics in your eyes. Then my least favourite thing is when I get my score!"
We chat with Steph at her home in Matlock, surrounded by rosettes, trophies, two dogs and a lifetime of memories from her time in the saddle. So, just how long has Steph been competing for?
"I am 50 years old and I've been doing dressage for quite a while now. Currently we have four horses, well three horses and a pony and I can't possibly comment on having a favourite horse. I don't have a favourite horse, they're all equal like my children…"
Now, Steph isn't your typical International dressage rider, she hasn't come from a dressage dynasty or climbed up through the pony ranks, in fact Steph only started to ride at the age of 24. To reach the top of the sport in the manner she did, re-wrote the rules of dressage
"I'd been riding for a bit and then I got into dressage by mistake. I happened to go and buy a young horse, I thought he had a funny trot, what I didn't realise at the time that was called Passage. So I disappeared off and had a go at a couple of unaffiliated dressage tests. Somehow, we won our first few competitions and I thought gosh this is easy.
Then I realised when I actually joined British Dressage and affiliated it was a bit harder than it looked, some serious training was required especially when I realised how talented my horse was. That little chestnut four-year-old happened to be Mr President."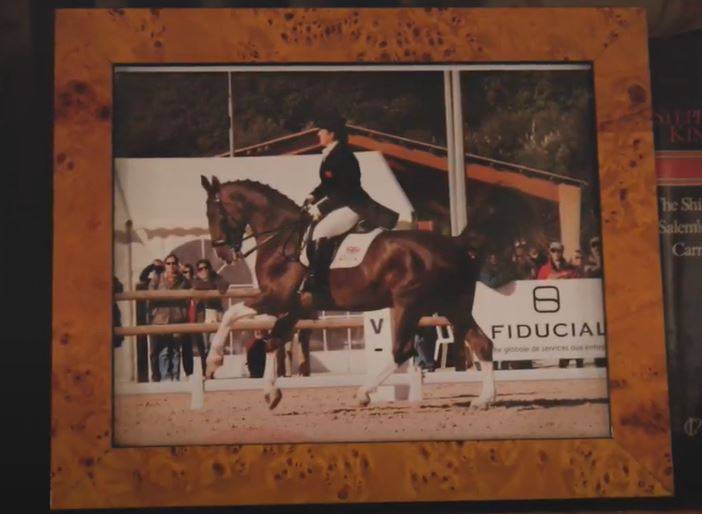 Steph studied Environmental Geology at Royal Holloway and completed a PhD at the University of Sheffield before her love for dressage took hold
"Mr President took me on such a journey. We went from Prelim to International Grand Prix in five years. That was with me not knowing what I was doing, him not knowing what he was doing but we had an absolute ball.
We travelled all over Europe, we did World Cups, we were longlisted for the Beijing 2008 Olympics, it was a wonderful moment in our lives. I am what I am because of Mr President. I'd be nothing without him."
Any horse owner knows that horses are individuals, they have different personalities, different opinions and certainly different appetites, so what about Steph's horses?
"My horses definitely have different personalities. We call Jurist, the Slug, his favourite pace is halt, closely followed by walk. If you're really lucky you might get rein back, anything else is too much effort. Then there's Thug, he is the opposite, he's on a mission from the word go.
He's like the charge of the light brigade and you spend your entire life sitting there saying wait, just wait for me! Can you wait for me! And he says "I've got this mum, I've got this, oh god no I haven't got it". At which point we might as well just give up on the move because we're halfway around it and he doesn't know what he's doing. They have strong personalities but that's what makes them individuals and so special. I get told by my husband that they're not human, you don't put human traits on them but they're part of our family, part of our lives."
Steph is no stranger to losing her confidence when riding and over the years has dipped in and out of confidence peaks, and has solid advice for anyone who is struggling with their riding confidence
"If somebody has lost their confidence, the key thing is to give yourself time. I've found in the past, that suddenly I'm 6 months down the line and I'm not scared about getting on the horses." Steph goes on to say it takes 6 months of taking things steadily, staying in your zone and not letting the opinions of others interfere. It happens without you realising, your confidence grows, and it takes as long as it's going to take. You've got to take your own steps at your own rate to improve your confidence."
We move on to the equestrian community to delve a bit deeper into why she founded the fun and friendly Facebook group SDU that now has over 68,000 members from all over the world
"Dressage, or the equestrian community, I think could just do with being a bit more supportive of each other. We're all very good and quick at criticising people when things go wrong, or probably a bit of the green-eyed monster when things are going right for people. I just think we need to be more supportive of the journey. What you see on people's Facebook pages, and I'm just as guilty as anyone else, is you showing what you believe is the final picture. The most perfect picture that you can have or you can do. What you don't see is the 25 photographs or the 30 videos you did in order to get that one moment in time. Or the days, months or years of practice, learning and hard work to get to that point. And that isn't life. Life is about learning from things going wrong and bad experiences. It's not all rainbows and perfect ponies unfortunately. The equestrian community needs to evolve and be supportive of people when things do go wrong. Then I'll be happy!"
Read more from Steph on the Harry Hall Hub here.