Over the past couple of months myself and my family (including nan as grandad!!) have moved house, 5 horses, 4 dogs, 1 cat, 2 parrots, 4 sheep, 2 llamas and a shed load of chicken and it's been pretty hectic! However there stress has all been worth it as we've been extremely lucky to have found the perfect home where I can run my dream business from home, a livery yard with the aim of providing a full livery service that owners can 100% rely on to care for their horses.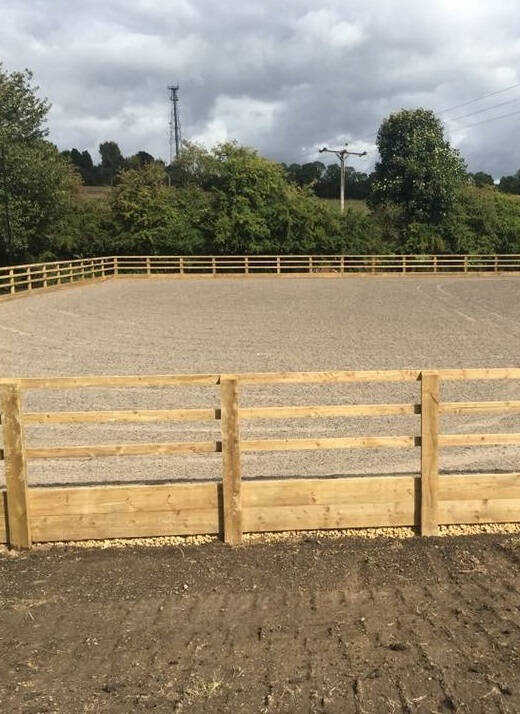 Over the past few weeks we have been making a slightly run down old farm/diy yard into what we hope to be a luxury livery yard! Some of the stables took 3 goes with the jet wash to clear out, about 30 tubs of masonary paint and counting, many long nights and arguments but the light at the end of the tunnel is getting closer! We have tested our all types of bedding and had to factor cost, wastage, appearance ect and finally settled on straw. Despite it being frustrating as it blows across the yard, it makes huge comfy beds for the horses and means we don't have to be stingy with the amount of bedding we use compared to shavings ect. However this does mean we have to sweep the straw off the grass on a daily basis!!
The main downside to straw beds (despite the smell) is the size of your muck heap and the speed it grows at!!
When we moved into the farm there was a small paddock sectioned off with letters around the edge that had previously been classed as the arena. This is something we had to fix immediately! So after help from the amazing team at Morton Civils Ltd our 30x40m arena was built with a XC step built into the side and training mirrors!
Going back to the fields, fencing is a major important factor we had to cover. Although all the fields were fenced, it was done with stock netting which horses can get thier feet stuck in and barbed wire! So we set off fencing the perimeter in post and electric wire to keep the horses away from the perimeter fence!
The main thing I have learnt during this process is never, ever settle on 'it'll be right'! Always do it perfect the first time especially when it involves other people's horses!
Olivia x