Welcoming Riding For The Disabled Association. In this blog, we introduce another Harry Hall 2021 charity partner, being a charity partner means that when you take out One Club membership, an insurance product, or shop with us you're helping us to support a good cause. The third Harry Hall charity partner we're going to introduce is Riding For The Disabled Association (RDA) who work with horses to support their clients' education and learning, using these skills to improve their client's confidence in daily life
About RDA

RDA benefits the lives of over 25,000 disabled adults and children through spending time with horses. With fun activities like riding and carriage driving, they provide therapy, fitness, skills development, and opportunities for achievement – all supported by 18,000 amazing volunteers and qualified coaches at nearly 500 RDA centres all over the UK. RDA activities make a real difference, with participants experiencing significant improvements in physical strength, mental wellbeing, verbal and non-verbal communication, relationship building, and confidence.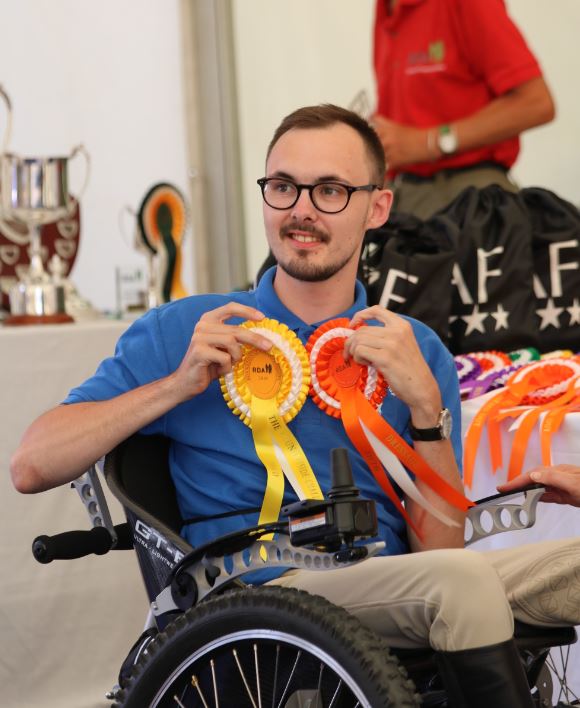 RDA is an inclusive and diverse organisation welcoming clients with physical and learning disabilities and autism, and there are no age restrictions. Through their network of member groups, RDA is at work in every corner of the UK, in cities and remote rural areas, bringing the therapy, achievement, and fun of horses to as many people as they can.
As a charity, they can only carry out their life-changing activities thanks to the generosity of donors, the dedication of volunteers and the good nature of their fantastic horses.
Meet RDA rider Darren
A highly competitive 24-year-old, Darren competed at his first RDA National Championships in 2017, coming second in his class only six months after his first-ever competition.
"It's been a good year," says Darren. But it hasn't always been the case. Aged 17 Darren was diagnosed with Friedreich's Ataxia, a progressive condition that affects the nervous system. "All I wanted to do when I was young was play football," says Darren. "I played football in the garden. I played for my local team. And then it had to stop. It really hurt me for years and years."
"I guess the light at the end of the tunnel was when I started doing my riding."
Since then, his strength, balance and core stability have all improved. Having started on a lead rein and with support from volunteers on both sides, he has progressed to becoming an independent rider – hungry for competitive success.
The impact is more than just Darren's physical improvement, as his RDA Coach Kady Chatman explains: "Darren embodies everything that RDA stands for. The progress he has made in his riding ability and technical ability, the success that he's made at competition. But more than that is the progress he has made in himself – coming to terms with his condition and what he can do."
"I think I've learned that I haven't lost my competitive edge," agrees Darren. "That I'm resilient, and that whatever's thrown at me I can overcome it if I just try. Instead of focusing on the bad – focus on the good. And everything will work out in the end."
Follow Riding For The Disabled Association on Facebook.