We caught up with Brian Reed from Rainbow Equine Hospital for an overview on windgalls in horses. We were keen to know some of the basic do's and don'ts when it comes to managing, treating and even preventing windgalls in horses.
Medically they are tenosynovitis of the digital flexor tendon sheath, in layman's terms, they are an increased amount of fluid in a tendon sheath in the leg at the back of the fetlock. They can be soft or hard (depending upon how much fluid is in the sheath) and can be big or small.
How to spot the signs of windgalls in horses
Look for a soft or a hard fluid-filled swelling on the back of the leg. You should be able to feel them and if you know your horse well enough, you will see them too. It's good practice to run your hands down your horse's legs twice a day so you get to know what is normal and what's not.
Are some horses more prone to developing windgalls than others?
There isn't any evidence to suggest this. However, horses that are in hard work or older competition horses are more likely to develop windgalls. Brian explains that horses who have a very straight hind limb conformation tend to be more prone to developing windgalls. Also, if your horse has suffered a leg injury in the past, they could well be prone to the condition due to previous trauma in the area.

What can you do to prevent windgalls?
Windgalls are signs of a wear and tear issue, so ongoing good management of your horse and their limbs is essential. If the horse has been in hard work, then bandaging or using therapy leg wraps overnight can help with their recovery. Complete prevention is tricky and there isn't a simple answer, to reduce the chances of windgalls developing down the line, varying the type of work your horse does is a good idea. Different ground conditions and surfaces will help and try not to repeat the same work over and over again (for example consistently performing 20-meter circles in the school, seven days a week is not a good idea). Too much of anything can be bad for your horse's legs and be sure to work at the correct level for your horse.
Good shoeing from your farrier also plays an important part in leg health management. After making this point Brian stresses again the importance of varying the work your horse does – "don't always ride in the school - hack out if it's safe to do so if not then long rein around the fields or do some in-hand work". A solid mixture of road work, grass hacking, time in the arena, and time in the field grazing helps keep your horse's routine varied.
If you notice swelling and/or heat in your horse's leg, then rest your horse the following day and use some cold treatment on the area. If your horse is lame, then you should call the vet as soon as possible. Early treatment is often the best form of preventing long-term limb issues.
What treatment is available for windgalls?
This depends on the underlying cause – you may know that your horse has suffered a knock or sprain of the fetlock area. In this case, the windgall will be considered "primary". Primary windgalls normally reduce and heal with rest, anti-inflammatories can help if needed as can stable bandages or therapy leg wraps. If you're unsure how to bandage your horse correctly please ask an equine professional to demonstrate this to you before attempting it yourself as an ill-fitting bandage can do more harm than good.
A "secondary" windgall is swelling within the tendon sheath due to damage to a structure that lies within the sheath eg. Deep digital flexor and superficial flexor tendons, suspensory branch ligament or the lining of the tendon sheath itself - if any of these areas suffer damage or injury then swelling will appear. In this situation, addressing the primary cause first and if required, treatment can be given by your vet to the ligament and/or tendon by medicating the appropriate area.
And finally the good news - many horses who develop windgalls carry on with their work quite happily with the right management.

About Brian Reed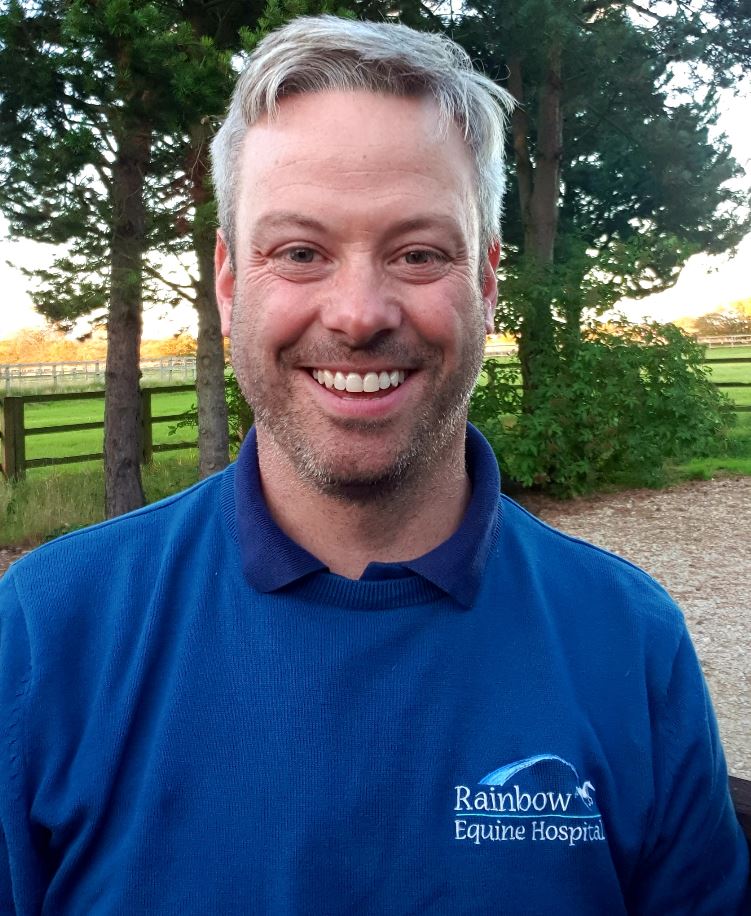 Brian was brought up in the Scottish Borders in a family with a strong veterinary background - he is the 4th generation to take up the profession. He graduated from Glasgow University Veterinary School in 2003 and after a brief spell working for his father's practice, he moved to a large farm animal and equine practice on Teesside. Brian moved to Rainbow Equine in 2008 to pursue his passion for equine practice, specifically reproduction, lameness investigation and pre-purchase examinations.
Brian gained the RCVS certificate in equine practice in 2010 and became a Director of Rainbow Equine Hospital in 2015. Brian is an FEI Permitted Treating Vet and has provided veterinary services at many national and international Eventing and Dressage competitions. He is also an Official Veterinarian (OV), enabling him to perform equine export examinations and certification. Brian leads the breeding services at Rainbow and enjoys working with performance horses.
Rainbow Equine Hospital is the largest fully-equipped RCVS Tier 3 Equine Referral Hospital in the North East of England. Rainbow offers advanced diagnostic and surgical techniques in state-of-the-art facilities and is staffed with progressive specialists in equine soft-tissue and orthopedic surgery, internal medicine, and diagnostic imaging.