Name – Puddin
Breed – Bullmastiff
Age – 3
Occupation – Chief bed and sofa tester
I used to be called something else but when Girl rescued me from a dog pound. She said I was so cute and adorable that I was just a big Puddin', and it stuck. I don't know why I was in the pound because I "wuffles" everyone and always have loads of kisses to give, especially if you rub my tummy. Sometimes I find it really hard to stand up because I get so excited about tummy rubs that I just throw myself on the floor in case anyone's offering.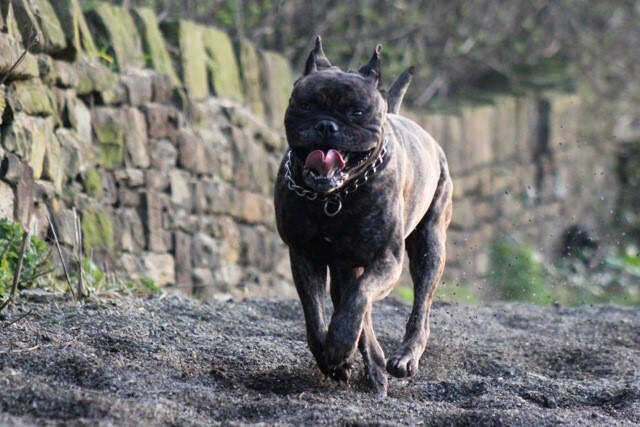 Training up my owner
Normally I have really tasty biscuit treats that Girl gives me. She's really strange; she says we need to do something called "Training" and she likes to pick up my paw before giving me the treat. Sometimes I help her out if she's struggling and pick it up for her, but then she tries to pick up the wrong one. I think she's quite confused, but she's very good with tummy rubs so I'll keep working on her and this training she needs. She's supposed to be quite clever but she is taking a really long time to figure it out.
In the mornings I patrol the neighbourhood with Girl and check that everything is in order, then I like to spend my day snoring on the sofa, keeping half an eye on things. I know when she's coming home, and watch from the window to make sure she comes back to the right house. Then I run to the door to give her lots of wuffles and kisses and tell her that my tummy hasn't been rubbed all day.
Snoring even when awake
Nights are the best times, I like to follow Girl everywhere. She says I'm too big to be something called a lapdog and won't let me sit on her but she does let me lie next to her and rest my head on her so it's nearly the same thing. I snore even when I'm awake, it's my thing and Girl says it's adorable! Sometimes it's a night called fish and chip night, this is my favourite night; Girl always saves some chips for me. I wait very patiently for my share and we play a game where I'm not allowed to dive on them until they are all in my bowl and she says go. This isn't a good game because I get very twitchy but the chips are so good I tolerate it.
Girl said I had to stand up just long enough to take some pictures because I am so gorgeous and all the pictures can't be of my tummy. I will try my best — too late. Legs in the air again. Tummy tickle, anyone?
Puddin xoxox