Like everyone, Harry Hall Ambassador Milly Dove has been forced to give her horses less turnout lately, but she's also working towards her competition goals for the year
Developing strength
Both of my horses, Ella and Tinker, have had a month off and I'm now bringing them back into work. In their training, I am using pole work to help develop strength, balance and improve their hind leg action.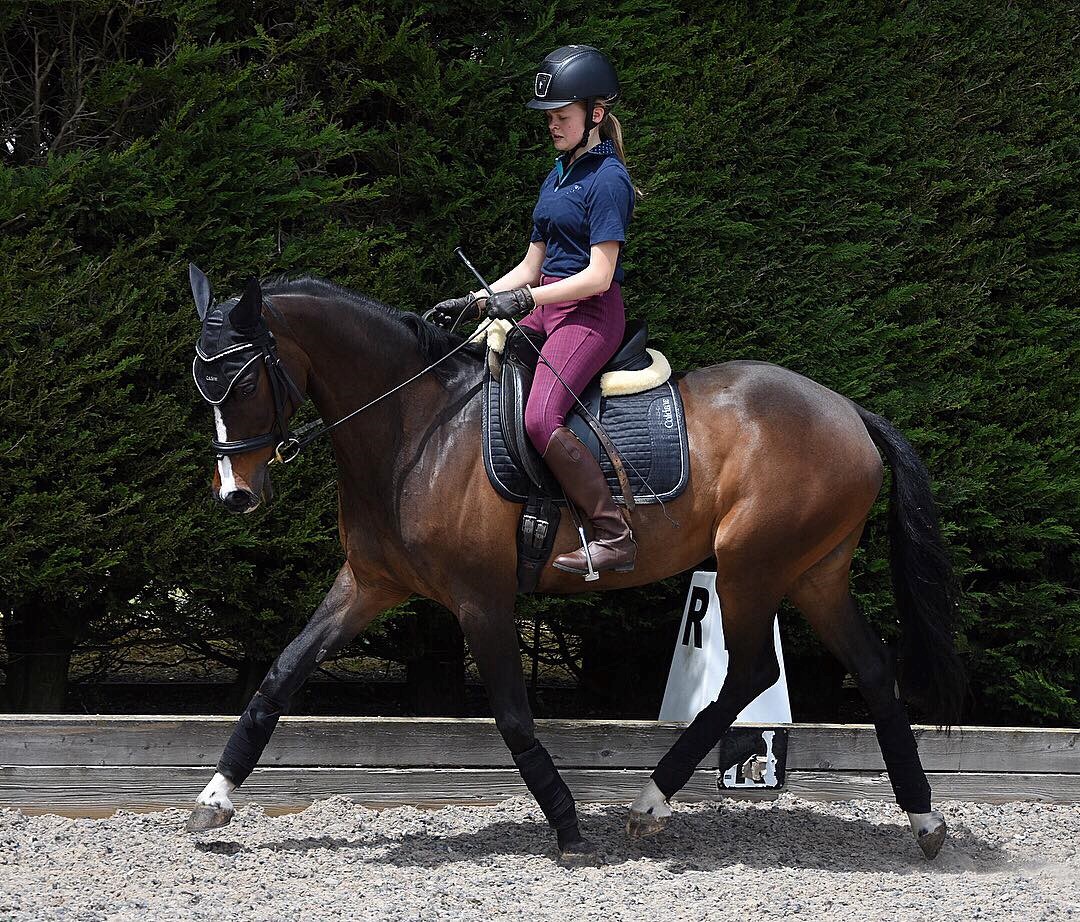 As Ella lacks muscle, she struggles to keep her weight back and off her forehand. Her hind legs are very active and she finds its easier to push herself onto the forehand rather than taking weight onto the hind legs. Tinker is naturally built on her forehand. Both of them benefit from raised trotting poles. By setting the trotting poles slightly shorter than their normal stride length, they have to slow down, take more weight behind and push up rather than forward.
I also like to include lots of stretching, both on and off horse, in my sessions which I think helps to maintain suppleness and stop them from stiffening up. 
Longer term, my goal for the season is to compete Tinker in her first Medium dressage test and Ella in her first Advanced Medium.
A difficult regime
It has been really wet lately and as we have limited turn out we have to rotate which horses go out and for how long. This does mean that some days the horses don't get to go out. On those days, I make sure I do grazing in hand and school the horses so that they get out of their stable and get some grass. I also try to visit the horses between meals with an extra carrot or two. 
I am always so surprised at how well both Tinker and Ella cope with this difficult regime. Ella still manages to maintain her cool and Tinker is always good. Mummy and I do sometimes travel to places we can hack out to vary the routine as well as give them some exercise.
Favourite gear for Autumn/ Winter 2017
My favourite product is the Harry Hall Burley Women's Breeches - https://harryhall.com/harry-hall-burley-womens-breeches-petrol-blue. They are high waisted with a thick waistband, very well shaped and very professional looking, while being affordable! These are one of the few breeches I own that don't become sticky and itchy when it rains or get too hot when it's humid.