So, two of Tottie's latest new products have been a big hit with us Tottie Girls and within the Tottie Fan community as well as further afield. It is obvious as to why that is too! I personally have both of these products and in this blog, I will be guiding you through the details of each pair then if you have not yet got your own or persuaded someone to buy some for you, hopefully this will be able to change that!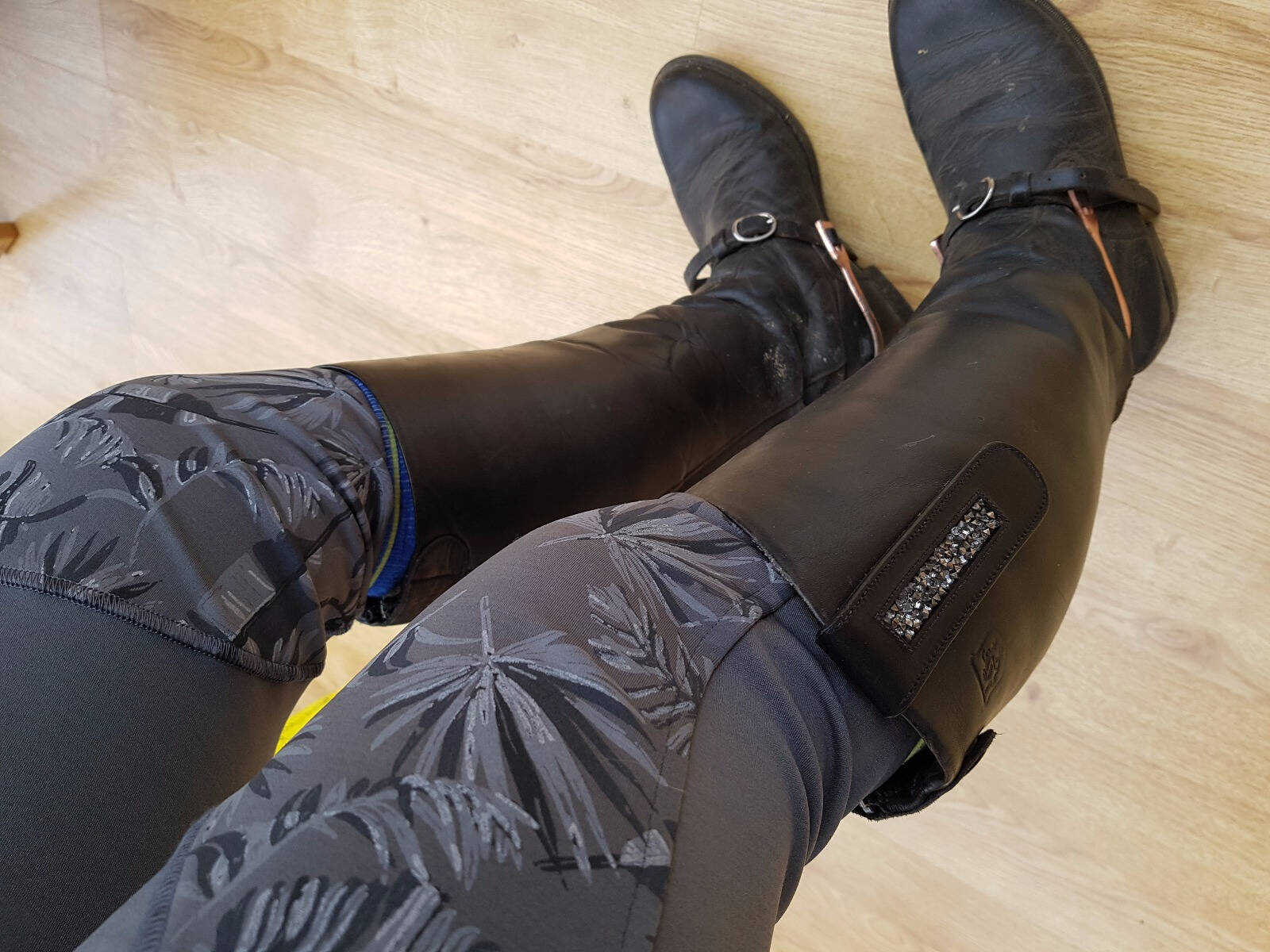 Let's begin with the Ellie Endurance Jodhpurs. These are designed to flatter your figure as well as being fit to wear whilst riding. They have been created with comfort in mind so allow for maximum movement and momentum. Their super stretch fabric means that they also fit snug with a close contact feel but without being slippery as they are fully equipped with inner knee patches to allow you to grip the saddle. The navy coloured jodhpurs feature a stylish subtle palm print design, with contrast cobalt ankle cuffs and stitching. A double layered waistband is also incorporated to prevent them from any chance of slipping down and to give extra support and comfort to the rider. Finally, they are fitted with a phone sized zip pocket on the back of the waistband which is fantastic for when you appear to have no other phone storage solution. These are one of my all-time favourite products from Tottie due to their versatility as I wear them not only for riding in, but also when I go to work or on a run.
Next up are the Honour Riding Tights. As I'm sure you are all aware, these leggings are grey in colour combined with the gorgeous palm print in certain areas. Just like the Ellie Endurance Jodhpurs, these riding tights are perfect for the warmer days due to being so lightweight and, from personal experience, I have found that you do not seem to feel as sweaty as you would in regular breeches or jodhpurs. The Honour riding tights combines these elements with Tottie's ultimate stretch material to give you the perfect silhouette! They are finished with coral stitching on the waistband and again, a phone sized pocket on the back. I think that these tights can be worn for more than just riding in! I reckon you would turn some heads if you were to wear these to the gym or just out and about because of how stunning they are. Don't forget though, you could also just have a chill day in your comfortable Tottie leggings.
If you are now thinking of purchasing a pair (or more), be it to treat yourself or someone you love, I would strongly recommend that you go down one size from what you would normally wear. This is all down to how stretchy the fabric is and it will enable the waistband to fit nice and snug rather than being slightly baggy - there is nothing worse that always having to hoist up your legwear every ten seconds in my opinion!
Thank you for reading and if you do decide to make a purchase, be sure to let us know on our Instagram accounts: @tottie_clothing (official), @teamtottie (ambassadors), or @ruthwalker.eq (my personal).
Keep tagging,
Ruth xx