As Harry Hall Ambassador Ella Lucas starts her second season of British Eventing, she shares five biggest things she learnt as a newbie last year 
Beyond regaining feeling in my fingers, one of my favourite things about spring is of course the event season beginning (hooray!). Last year was my first full year as an affiliated British Eventing (BE) member, and so I thought I would share with you my top tips and things I learned along the way for anybody starting out this year.

  
1) The Rule Book is your Bible
Before you head off to your first event, make sure you're familiar with the rule book. If you become a BE member then one will be sent to you in the post along with your membership card. It will tell you exactly what equipment you can and cannot have (essential knowledge!), and the dimensions of the fences you can expect to jump at each level. It also includes useful things like copies of the dressage tests, although these can be found on the BE website if you prefer to print your own copy.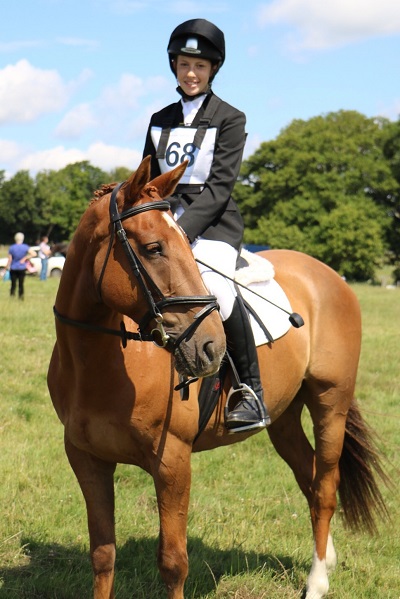 2) Make timetables and lists
When you know your times, make a rough timetable for day, allowing yourself plenty of extra time. It's far better to arrive early and give your horse some time relaxing than it is to be rushing and stressed. Also don't forget that it's very likely each phase may be running a few minutes early or late, so don't panic if you're asked to go in slightly before or after your time.
You do need lots of kit so list-making in advance of packing your car or lorry is vital.
3) Think about volunteering first
If there's anything you're unsure about, don't be afraid to call or email the BE officials or event secretary to ask. The entries process alone can be confusing at first, but they're there to help, and remember the only silly question is the one left unasked. If you want some experience of an event without competing, a great way to get to grips with eventing and what's involved is to volunteer. You can volunteer as a fence judge, a dressage writer or steward along with a whole host of other jobs. It really is worth doing because it allows you to become accustomed with the environment and it allows other riders to have a great day out.
You're usually fed and watered very well with tea and cake, and some venues will give you a cross country schooling voucher in return.
 
4) Take photos as you walk the cross country
Typically, courses open to be walked the day before the event, allowing you plenty of time to memorise where you're going and how you plan to ride it. If you're at BE80 or on the Under 18 programme, there are usually guided course walks with professional eventers or trainers available too. 
My top tip for is always take plenty of photos. Not only of the jumps, but also of any tricky lines you might take or variances in ground such as a particular tree root you want to avoid your horse tripping over. Don't forget to count the fences either – there's nothing worse than completing an event on a super dressage with a double clear only to find out that you missed jump number 12 cross country when you were course walking, didn't jump it and consequently were eliminated for error of course. You would be amazed how many people do this at some stage! Course maps can usually be found from the secretary which can also be used to double check you're tackling the correct obstacles.
5) Ask more questions!
When you arrive at your first event, there are bound to be a few things which are new to you, but speaking from experience you won't find nicer or more helpful people than those at BE. The officials, stewards, BE80(T) trainers, volunteers and even your neighbours in the lorry park. Whether it's clarification that you've learnt the right dressage test, advice on how to ride a certain jump or if you need to borrow something like a stud spanner, I've found everyone is happy to help, because they've all been there before too.
Enjoy your day out and have fun, you'll be flying round Badminton in no time.
What I've been wearing:
I've been living in my Harry Hall Dartford Polo, paired with Harry Hall Bala Riding tights. They're both super comfortable and stylish, and the polo is great for layering when the weather isn't at its best! The Harry Hall rididing tights are grey with pretty aqua blue detailing, a great colour combo for spring.
For more updates and useful information, subscribe to our newsletter and recieve 10% off your first order...