Mud fever in horses. Every year it's the same, a combination of wet weather and hair on horses' legs provides a perfect breeding ground for the bacteria that causes mud fever. White-haired areas and pink skin are more prone to mud fever, so be extra vigilant if your horse ticks these boxes and has one or more white socks.
For this two-minute advice piece, we spoke to Equine Vet Brian Reed BVMS CertEP MRCVS from Rainbow Equine Hospital for his advice on how to treat mud fever in horses:
What are the telltale signs of mud fever?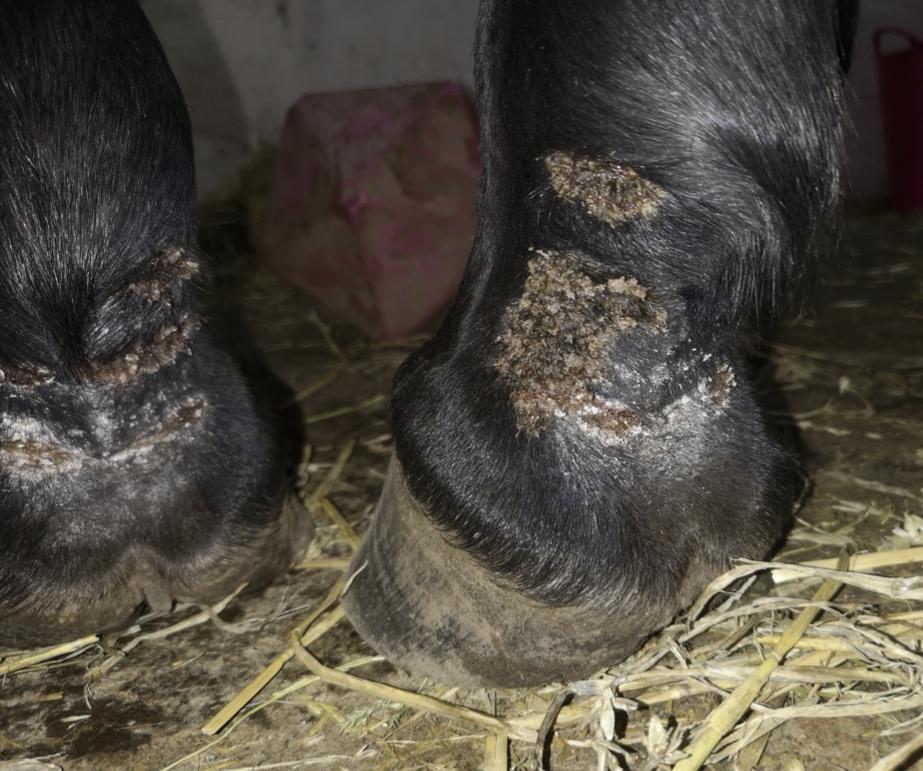 The signs of mud fever are tender sore legs, in acute cases, the legs may swell up with scabs possibly oozing yellow serum. See pictures to the right and below.
How to avoid mud fever
Check your horse's legs every day for scrapes and scratches – even the smallest scratch will allow bacteria to penetrate the skin's defences.
Wash and then thoroughly dry the affected area. If possible, turn them out in a drier field – somewhere where they won't be standing in mud all day long. In wet weather, Brian recommends that all horses have their legs washed with warm water (add a touch of antiseptic wash) every day.
After all the mud has been washed off, use a clean towel to dry their legs as well as you can.
Remember, wet and warm conditions on a horse's legs are ideal for bacteria, so clean, dry skin is the key to preventing mud fever.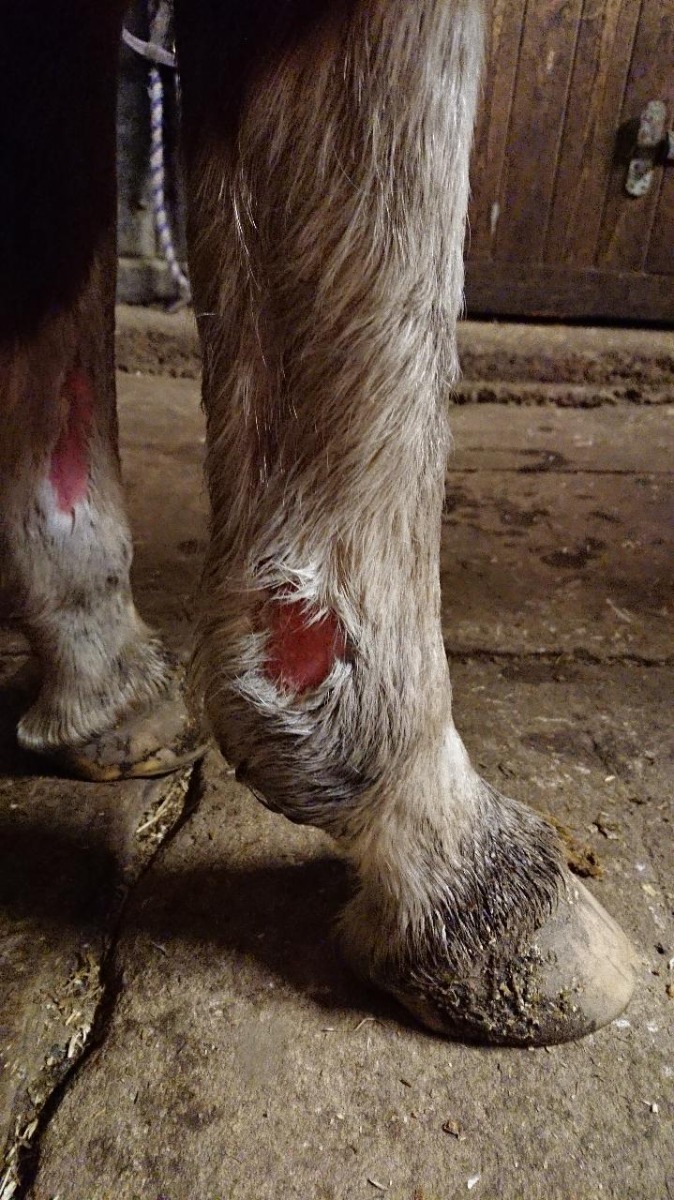 Good quality antiseptic wash and barrier creams can play a part, but clean dry legs are a great starting point to prevent this painful condition from developing.
Some horses are more prone to mud fever than others and for some, the situation worsens with a condition called LCV "leukocytoclastic vasculitis", where the horse develops an allergic reaction to the bacterial infection. LCV or worsening mud fever needs veterinary attention. In these cases, your vet might prescribe antibiotics and steroids.
Thank you to Brian Reed and Rainbow Equine Hospital for providing this information.
About Brian Reed
Brian was brought up in the Scottish Borders in a family with a strong veterinary background - he is the 4th generation to take up the profession. He graduated from Glasgow University Veterinary School in 2003 and after a brief spell working for his father's practice, he moved to a large farm animal and equine practice on Teesside. Brian moved to Rainbow in 2008 to pursue his passion for equine practice, specifically reproduction, lameness investigation and pre-purchase examinations. Brian gained the RCVS certificate in equine practice in 2010 and became a Director of Rainbow Equine Hospital in 2015. Brian is an FEI Permitted Treating Vet and has provided veterinary services at many national and international Eventing and Dressage competitions. He is also an Official Veterinarian (OV), enabling him to perform equine export examinations and certification. Brian leads the breeding services at Rainbow and enjoys working with performance horses.
Rainbow Equine Hospital is the largest fully-equipped RCVS Tier 3 Equine Referral Hospital in the North East of England. Rainbow offers advanced diagnostic and surgical techniques in state-of-the-art facilities and is staffed with progressive specialists in equine soft-tissue and orthopedic surgery, internal medicine, and diagnostic imaging.