It's safe to say your journey into horse riding probably started at a riding school, on a trusty pony who was older than anyone really knew. It got us thinking, do top-level riders start out this way too? We asked 20-year-old Team GB Dressage rider, Angus Corrie-Deane, how he got into riding and where he discovered his passion for dressage.
I guess I could ride before I could walk – literally! My mum was an international 3-day event rider back in the day and she kept up with her BE competitions until us boys took up her time instead. Mum would let me sit in front of her on the saddle when she was walking off the horses after exercise. I loved it!
I joined Wilton Pony Club when I was five before moving on to the South and West Wilts branch later. I had this fabulous 12hh Welsh pony called Spritely. I was nervous of her to start with and fell off a few times before I understood all the gears. She was so talented and could jump a 2'9" show jumping course with ease. When I was about ten, I found I couldn't go as fast as I wanted to in jump-offs because some of the courses were so tight, so large and Spritely was only 12hh. Instead of getting sympathy from Mum, she just laughed and suggested some dressage lessons to help get Spritely more off my leg.
It wasn't until I had a lesson with Claire Moir at Half Moon Equestrian Centre that I began to get the point of dressage and wanted to do more. Claire is one of those teachers who explains "the why" as well as telling you what to do. I was still in primary school, however, she spoke to me like a rider and not a child and I loved it. Claire suggested I join BYRDS South West and I did my first inter-regionals on Spritely the super pony.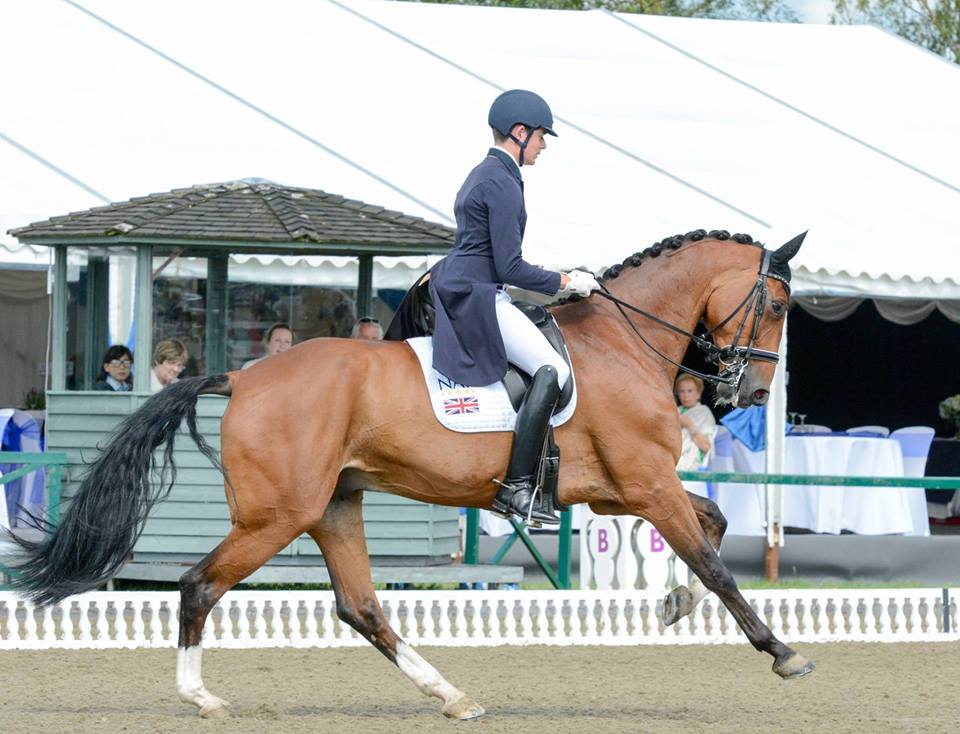 I kept jumping, on Spritely and my next pony, Felinmor Buddy (Buddy was also brilliant at gymkhana games and we would sneak off to as many local shows as possible in between BD competitions – I'm convinced it helped him keep fit and supple!). Buddy was great at cross country too and we won our regional Pony Club One Day event – and this was the first time I had to choose between dressage and jumping. The date of the Pony Club National Finals clashed with the Sheepgate U25 Championship Pony Derby Final. Hard choice, but dressage won in the end.
Soon after that, I had a stroke of real luck. Heather Ashley (a List 2a dressage judge) generously offered us her talented 14.2hh FEI pony Stella. Stella was amazing and had an extended trot like a top Grand Prix horse, and a buck that felt like a hand-stand! She taught me so much, got me onto the national pony training squad and paved the way for international competitions.
It was Claire Moir who found my first international team pony – Grayswood Orlando (Ginger to his friends). I had such fun with Ginger and did so many international CDIs. We were lucky enough to be chosen for the Nations Cup Team and came second at a great fun show in Saumur in France (complete with champagne tents!). Ginger could be highly strung, and I learned many of the riding techniques I still use today on my young horses. Our greatest achievement was undoubtedly being selected as first Reserve for the European Championships.
My first horse - Jeff (Walters Fable) had been bred in England and then sold as a youngster to a professional showjumper in France. Somehow, he had made his way back to the New Forest and his owner suggested that I might like to meet him. She kindly lent him to me for a couple of weeks and I took him to my trainer, Jennie Loriston-Clarke, to see if he was a suitable Junior Horse. Jeff is a super talented horse and quickly learned his changes so that I could do the Junior Team tests (advanced medium). He too took me onto a Nations Cup Team (again in Saumur, and again we came second!) and was also shortlisted for the European Championships. When I moved up to Young Riders, another Junior Rider was looking for a horse so Jeff moved to a new home and is still competing successfully.
Tiny (Tiny Tempur) came into my life whilst I still had Jeff and did several Junior Dressage Internationals with me before becoming my Young Rider partner. Tiny (17.1hh, but apparently a very small foal - hence the name), was bred by Fiona Bigwood. One day, out of the blue, Fiona's husband, Anders Dahl called Mum and explained that Tiny was not being used by them and was the right size for me and they wanted to find him a competition home. We went to meet him, and I found myself riding this amazing horse who was so talented. That was nearly four years ago and it's only when I look back that I realise we have done so much and been to so many fun places together. He has also given me my first ever perfect "10" score in a dressage test at Hickstead Premier League. Tiny has helped me get onto Excel Talent and the Podium Potential Pathway squad where BEF and UK Sport have taught us so much about "marginal gains". The theory is if you add tiny percentage improvements, including (but not limited to) better feeding, better shoeing, perfectly fitting saddles, horse temperature management, my own physical and mental fitness, combined, they add up to significant performance improvements.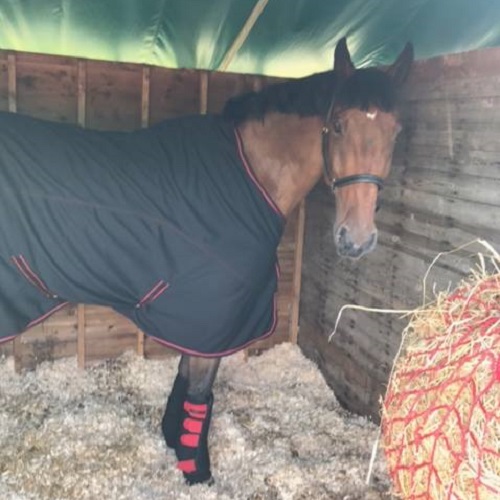 Tiny is not by nature a fat horse, he drops weight at every excuse. Keeping him in a good enough condition to compete abroad with long days travelling has always been a task. He has five meals a day and hay ad-lib and I think we have just about cracked it! However, the other key discovery we made (part of the marginal gain work I guess) is that Tiny has a personal thermostat that must be kept constant or he will lose condition. This is where Protechmasta stepped in and helped us so much. This range of products does exactly that for Tiny – the Infrared technology ensures that Tiny is never too cold, and interestingly, even in 30+ degrees, as it was last summer when competing in Europe, he is never too hot.
Tiny lives in his Protechmasta rug. It works! None of our other horses find it hard to keep condition on, however, they all have, and love, their Protechmasta rugs, exercise rugs and headcollars.
Thank you for reading about my dressage journey, Angus