Tom McEwen is a top-class event rider with his sights firmly set on selection for the British Team at the World Equestrian Games in the USA this summer. He's sponsored by Masta, a harryhall.com brand. 16 lucky ticket winners were able to watch him school his top horse Toledo de Kerser, jump a younger horse, and tour his yard meeting his string, his staff and seeing what helps Team McEwen a winning one.
1) Some horses are just born keen. Eliza, an affectionate chestnut mare, starts banging her stable door as soon as our visitors begin arriving, until finally her top door has to be closed for a few minutes. "If there's any coming and going she does that, demanding to go on the lorry," explains Tom. "She absolutely loves her job and just wants to be out competing.." It hasn't surprised Tom that the mare has chosen to have a stable that's right at the heart of things - next to the tack room and opposite the wash box. Tom's a big believer in letting his horses wander loose round the yard until they gravitate towards the particular box they like best.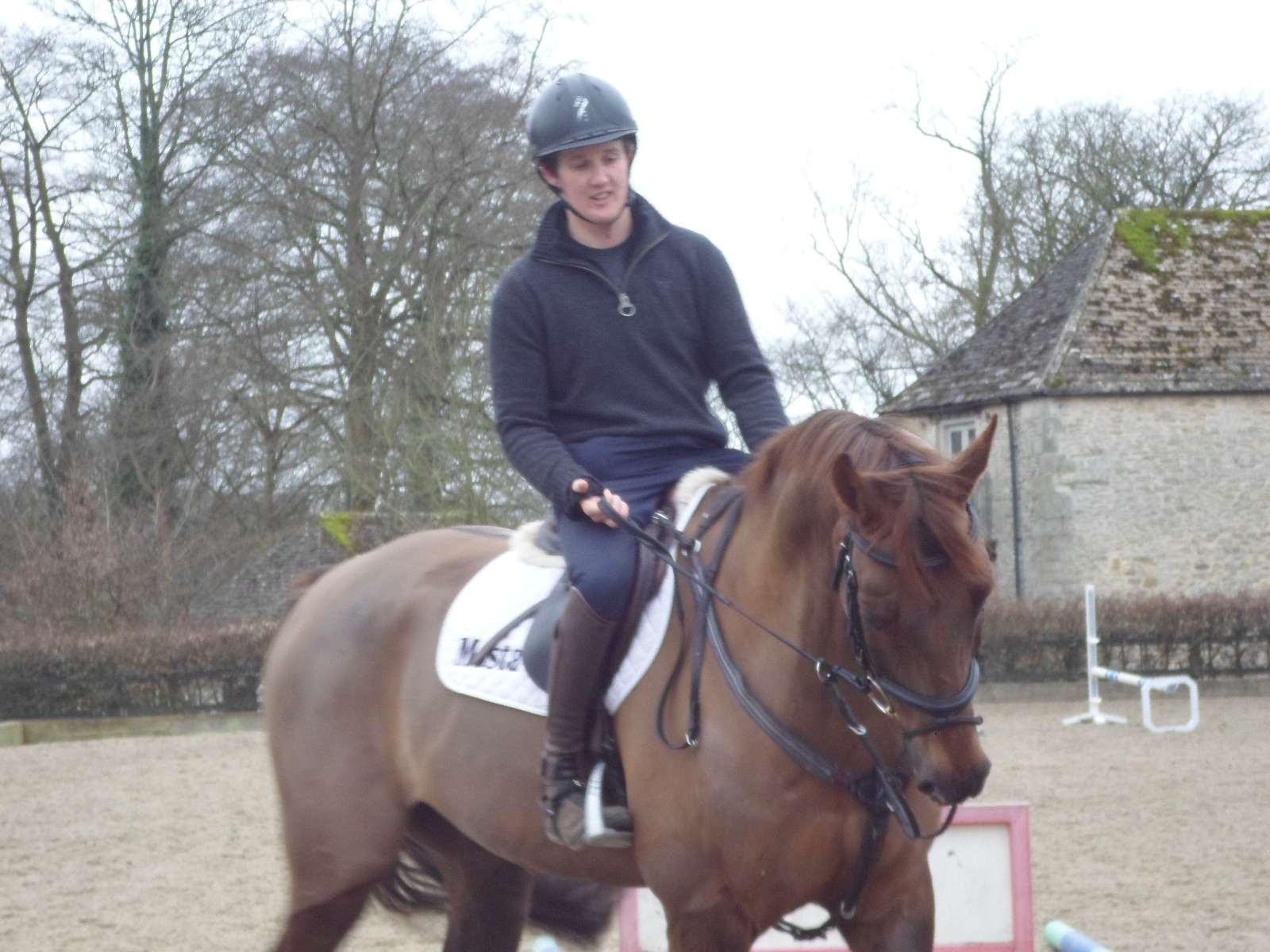 2) Tom's preferred treatment for sarcoids? "Rubbing them with banana skins," he says. "It works a treat - they came right down!"
3)This is a yard eager to explore any cutting edge technology, including a vibrating floor which has lately arrived to be tested. Horses stand on it for 20 mins at a time (with a haynet) and Tom's trialling it with four horses - one with no health issues that he knows of, one which is tight in its back, one which is recovering from injury and one that' not got the best feet. The treatment is supposed to help stimulate circulation and aid recovery.
4) Strike Smartly, the handsome grey three-star winner who Tom hopes to take to Badminton this spring, is hacked each week by his 70 year old owner. "But I'm slightly worried that she also wants to canter him now!" laughs Tom
5) While Zara Phillips takes some time off to have a baby, Tom will be competing five of her horses this season on top of his own. Zara's yard is very close to Tom's which is on the Gatcombe Estate. Since he now has 17 horses on his own yard, former Pony Team rider Sophie Martin joins his team this season as a second rider, primarily to help warm up and cool horses off for Tom.
6) Life is very good for a McEwen eventer. "They are massaged, have lots of time out in the field - and certainly see the dentist and hairdresser more than I do!"
7) Tom terns the year horses turn seven years old the "see how you go year". "Some are ready at that age to move to intermediate, and some aren't ready til later," explains Tom.
8) Tom is a regular visitor to a French stud in Normandy to view and buy young stock as potential eventers. They are loose jumped as three year olds and Tom looks at "their stamp, their attitude and their eye". Then he "starts at the feet first to look at the conformation, their ability and their brain".
FOLLOW US to hear first about future Harryhall.com Yard Visits in your area..