Well its been a busy first half of the year so far.. I have really been concentrating on Macaroni, an interesting young good horse (he was a pony but had a massive growth spurt to almost 15.2hh!) He's very talented but as with most talented horses he has his quirks. We have joined British Dressage and made our debut at Bicton arena, where he won both his section and was overall winner in the first prelim test. This was amazing! We even won prize money, AND we were mentioned in Horse and Hound!
We were so lucky to have qualified for the British Riding Clubs (BRC) winter dressage champs at Keysoe. It's an amazing venue, and was a really big occasion for such a youngster, but Macaroni didn't put a foot wrong and rode a cracking, relaxed test that was just outside the placings. I didn't mind as this was great education for the future.
It obviously helped as last weekend we competed at the BRC national combined training champs at Aston le walls, another super venue. He pulled out all the stops for a super test of 29 penalties (71%). The show jumping was possibly Macaroni's worst nightmare, he is only just getting his head round fillers, and there were 3D ladybirds, waves, walls, big flowers, you name it! It took some riding but we went clear. Unfortunately we had a few time faults as I had to keep him in the rein so he didn't get cheeky with the fillers, but we were still 10th. I am so proud of him; it's been such a great experience completely starting him from scratch, and very rewarding.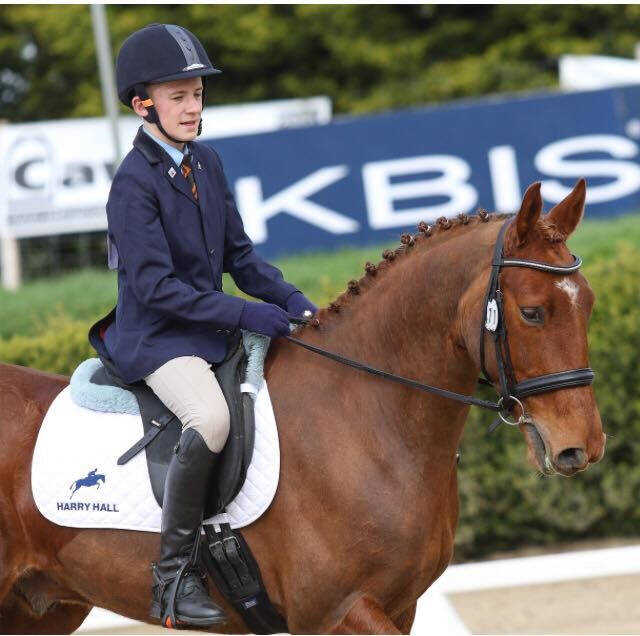 Sometimes you have to accept help
At the moment he is just a bit too bold and strong for me across country so our friend and local event rider Lizzie Luxton has been helping me and is going to event him a few times to start with. Sometimes you have to step back and except a bit of help... So we have just got a 14.2hh Connemara from Ireland for me to have fun on this summer. So far he's being fab! I am so used to sharp ponies is a bit strange having kick on more.
A new boy on the block
I am so excited that my little brother Sid has started riding again. He gave up for a couple of years but he back and absolutely loving it. I may have to watch my back as he has got very good very quickly. I have been helping, and Mum lets me teach him too, just trying to keep it fun. I am really enjoying it.
Could saddlery be my job?
At school we are starting to think about career options after school (a way off yet) I would love to be a saddler, For my 13th birthday recently I got some leather working tools. I have made keyrings and a belt, but I also enjoy teaching Sid and helping Mum so may look at that too.
Obviously my real goal is to be a four-star eventer! But mum says I have to have other option too.... I have had a few ponies in to produce and sell on. I really enjoy working with the young ponies, so maybe a I will do that too after school, who knows?
What I am wearing
I have a funny shaped head, thus I have been struggling to find a nice smart (and NOT blingy/girly) dressage hat. We got the Harry Hall legend. It's really comfortable and looks great, cracking price too.