After struggling to keep both my horses ridden and fit throughout the exam period, I am loving the summer! I am now free to spend all my time with my horses. I have also been taking part in DressageTraining.tv webinars including Rider Biomechanics with Mary Wanless (the founder of Ride With Your Mind — RWYM) and Improve Your Dressage Scores with Master Dressage.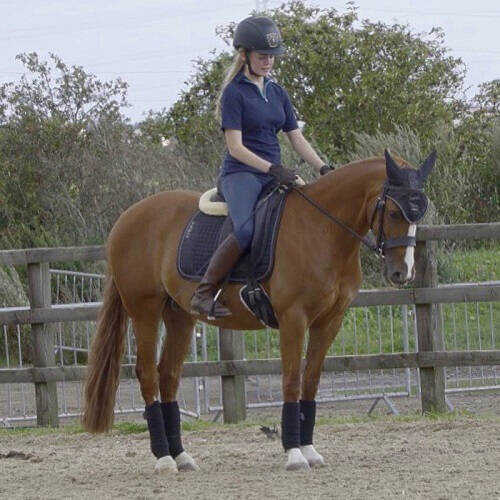 My mare Ella is thriving with more work and her hind end is getting stronger. This was her previous struggle, despite her big action, but we'd been doing lots of shoulder-in and half pass and this has really helped her to develop. Tinker is back in work after a month off following treatment. Everything is looking up.
Being realistic
Spending more time in the saddle has helped my riding, enabling me to give clearer aids and encourage correct responses without getting emotionally involved. I have found it important to remember the limits of my horses' abilities. When they are not performing like Grand Prix horses, it's not just because they don't feel like it!
I have recently been to the British Dressage Summer Regionals at Bury Farm. The day was amazing but also slightly disappointing. Tinker behaved perfectly but with so little preparation due to his time off had we didn't manage to qualify for nationals. It was a bit frustrating to know that she could have gone much better, especially as the winning score was only 2% above our score. However, it was a great learning experience and the atmosphere was incredible.
I have just come back from a course with Mary Wanless. As always, she helped both Tinker and me greatly. As Tinker is not naturally athletic, it was great to achieve an active canter where we were both relaxed and calm. Mary helped with my position to encourage Tinker to not fall on to her forehand. I was very happy with Tinker and am looking forward to the British Dressage Area Festival competition coming up very soon.
What I've been wearing
My favourite piece of clothing when performing in webinars, has to be my Harry Hall Dartford Polo Top. It's stylish yet smart and it's kept me cool even in the warmest weather. It goes well with both my smart gear and more casual kit. It's definitely the best part of my wardrobe at the moment.
It's also my birthday soon and the horses will get presents too! I am looking to find perfect matching sets for the horses because that's what I love at the moment!