Name: Franklin
Breed: Saluki/Greyhound cross
Age: Four(ish)
Chief Occupation: Looking for food
Specialist Subject: Detecting and consuming food
I SAILED into England from Ireland in January 2016 after being picked up as a stray in County Wexford. The vet thought I was about three and gave me a clean bill of health before I went over the waters and was taken in by Kent Greyhound Rescue (KGR) – which cares for lots of lurchers too.
I am very handsome if I say so myself – a most interesting mix of black, brindle and white marred only by a few premature yet distinctive grey hairs. I have a strong sense of my own worth and am unable to compute any negative reaction. Who could not but love me?
From rescue kennels to loving home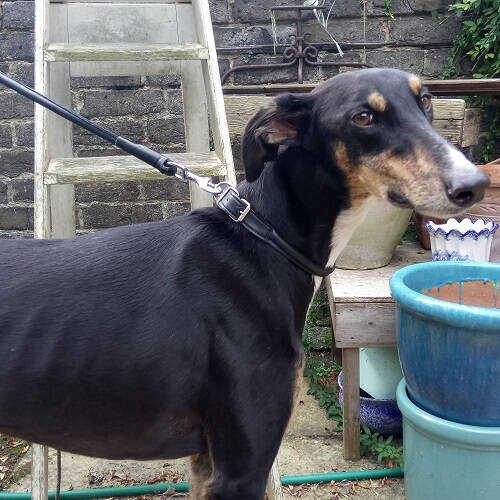 My owner, Chrissy, has had lurchers before and understands what we intelligent, sensitive athletes need – apart from lots of tasty food, of course: plenty of opportunity to stretch our legs, preferably in the woods or fields, kind and fair handling, and somewhere comfy to sleep as our bones do stick out a bit – but in all the right places naturally.
Chrissy is always musing over my imagined former life and believes I am accustomed to being well looked after and cared for, and home comforts such as sleeping on the sofa, being driven around in a car and general pampering. She says that's why I'm not nervous, don't understand harsh handling and love people and dogs. However, I've overheard her having the nerve to describe me as stubborn and pig-headed – how rude! In my book, determination is a quality – although selective deafness and bloody mindedness not so much I grant you.
So, as I was saying, my fourth move after being picked up as a stray was into KGR kennels… not my cup of tea: no sofa, no treats - quite boring and a bit lonely. No one seemed interested in adopting me. So I went on a hunger strike; it's worked for others historically so why not? Bingo: kind KGR boss Ian then took me into his own home, which I liked a lot better, and I then went into foster with a lovely family in Dover who take on a KGR dog every summer holiday. That was more like it – boy was I spoiled! It was a really hot August and I played with squeaky toys in the garden or lay on the sofa while they fed me cheese.
Meanwhile, Ian was still trying hard to find me a home, and photos my foster family posted on Facebook really did me justice. Chrissy came down to visit. The last prospective adopters had been a couple who I'd taken one look at before running upstairs to hide, but she seemed OK and I licked her hand and allowed her to join my temporary human pack for a walk and a sit in the garden, which gave me plenty of time to drink her mug of tea... She rewarded this resourcefulness by deciding to adopt me and now we have been together exactly a year.
Working out my past
Chrissy's guessing game about my history goes on, but of course I can't tell her whether she's right or wrong. She thinks I was stolen from a family with young children and other dogs, as I'm so gregarious, and I then either got away from my captors or was dumped. I must admit I do drop clues such as looking up quickly if a child cries on TV or in the street, and once I went along a line of men, women and children outside a school sniffing them all as if to see if I knew them – or was I just looking for food? I am a practised escapologist also, sliding through front door cracks as slippery as a black eel (latin term: frankus, frankus).
Chrissy also believes my old name was Bobby or something like it as, again, I jumped up when I heard someone calling that out on TV, and I turn round each time she's said it to test me. But I like the KGR-given name Frank well enough and of course my lips are sealed: only I know the true story and it will forever be my secret.
The past is past and I'm enjoying my new life: I go to work with Chrissy, we have some fantastic long walks in the woods with my doggie friends who include a Weimaraner and an Engish Springer, I have a new hobby of chasing rabbits and squirrels and I enjoy good food and comfy furniture. So my mystery life must remain a mystery; that's just the way it is. Unlike people, dogs don't look back, they live in the moment – and it's a pretty good moment.