Harry Hall Junior Rider Robyn Byrne is growing like a mushroom; and learning to adjust.
Spring is here which can only mean one thing.. it's cross country season! Hooray! So I've started off back into the swing of things with my pony Sophie doing some dressage. Mum says it's a good to rebuild our relationship back after a quieter winter and Sophie listening to my leg (I didn't think legs actually talked!)
We are getting ready for our first one day event of the year and I'm super excited Sophie is coming back nicely after the winter and is like a bouncing kangaroo.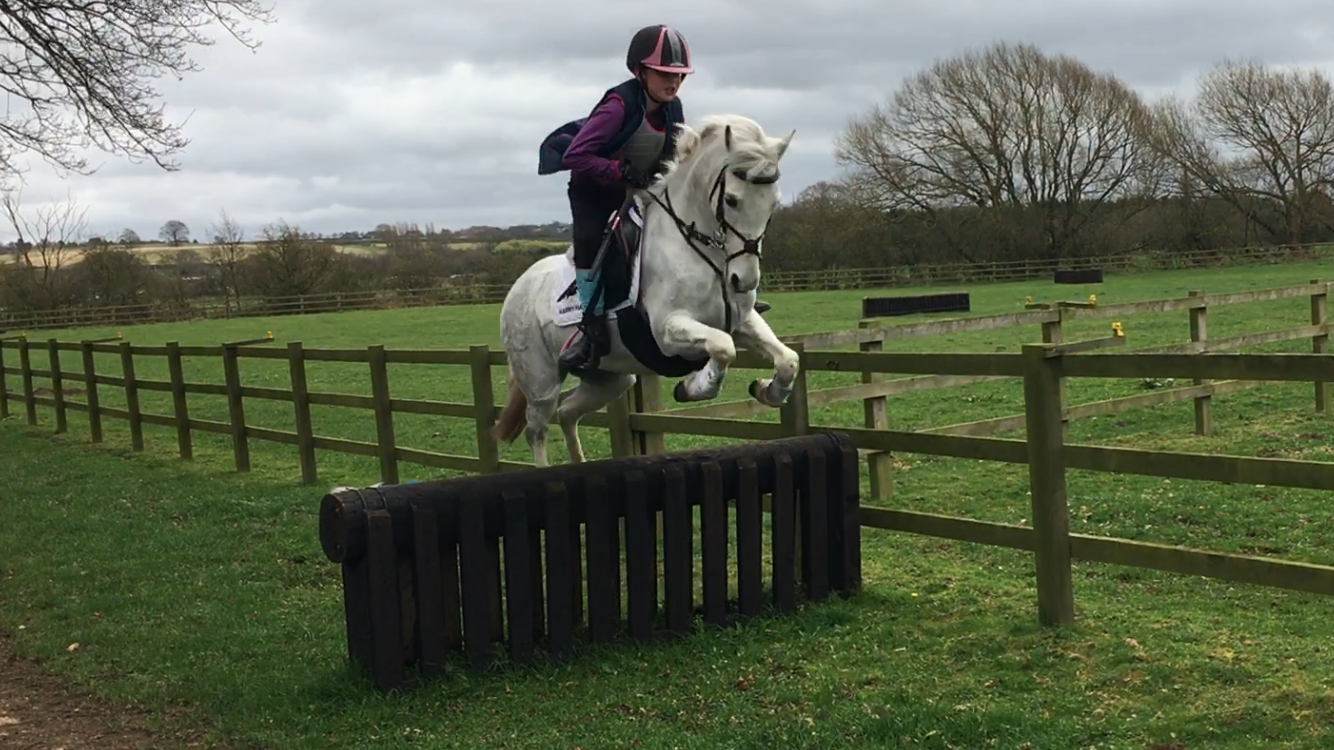 Exciting news
I've got some exciting news to tell you which means there is a bit of upsetting news to come with it. Due to me eating lots of cakes I have grown lots! I'm 4'9" nearly and still only nine years old. So Mummy was cheeky last year and talked to someone we knew about a 13.2hh pony. He was put on winter rest to get less fit and speedy because you won't believe it, but he is faster than Sophie! Mummy told me a few weeks ago we were going to have a look at a new pony for me to build a relationship with along side Sophie as I may need to move on to something bigger by next year. Cracker is my brand new ride. He is bigger and as keen as Sophie but not as strong. Though she is small, I have to ride her in a gag; Cracker is fine a snaffle and not as strong at all although he looks it — in fact he wears 6 foot rugs.
Mummy has some exciting plans for us this year, which include dressage which I'm actually quite liking at the minute!
I am going to be taking things slowly with Cracker as he is bigger and bolder than Sophie. He wears 6' rugs in fact. We have already had our first but not last tumble. He is a lot bigger to fall off, but I've learnt from a young age that falling off only makes you a better rider. We will be doing some working hunter classes and a few cross country events but I need to build a relationship with him before we get out competing every weekend (poor Mummy.. she is so wonderful).
Mummy and Daddy surprised me with a new trailer which I was totally amazed by as I didn't know anything about it. I love it and I'm going to clean it every time I use it. (Well, this is one of the jobs Daddy helps me with!)
What I've been wearing
This has to be my new purple Harry Hall Cherrybank Junior Sweatshirt.It's thin enough to wear with your body protector on top of it. I wore it on a windy day across country and it kept me warm but not too hot.
Love Robyn, Sophie and Cracker
Photo thanks to Andrew Youll photography
THE HARRY HALL 2017 YARD VISIT PROGRAMME HAS NOW BEGUN. Involving FREE exclusive tours to top competition yards they win rave reviews. Come and see, learn, ask, and go home with a goody bag. Follow Harry Hall on FB and Twitter to find out about others as they are planned..