Hi! My name's Lucy, and I'm one of Tottie's new Select girls for 2018. I'm really excited to start working with Tottie this year! First of all, I just wanted to give a quick introduction to who I am. I'm 17, currently in my second year of studying A levels at sixth form. I don't have my own horse, but I do have one on part loan. Lewi is an 11 year old gelding, ISH, and about 16.2hh. He's basically the definition of a gentle giant, and such a softie! We all know that it's the ponies you really have to watch out for. I also volunteer at my local Riding for the Disabled association (RDA).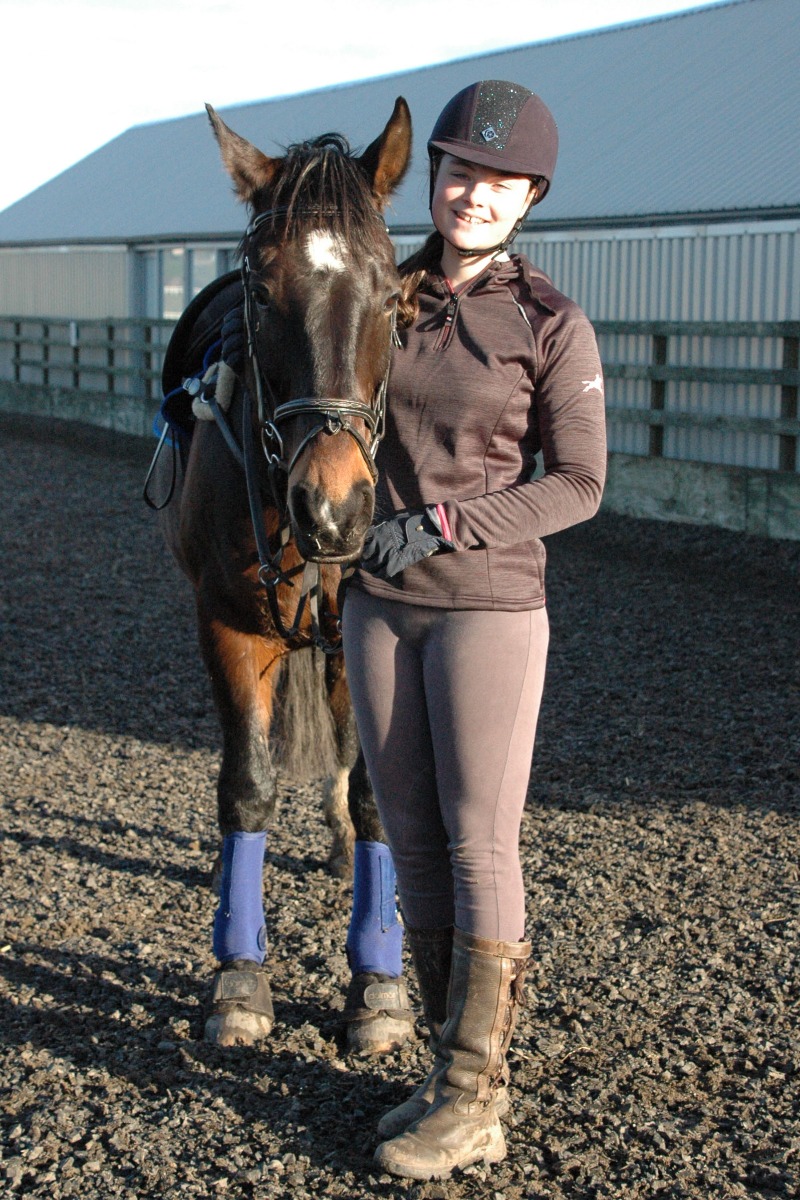 As we're just going into a new year, I thought it would be appropriate to outline my goals for this year. This will likely be my last full year with Lewi regularly, as (if all goes to plan) I should be going off to uni in September! So I want to fit in as much as possible.
In the run up to Christmas, both myself and Lewi have been out of work, so to speak, due to injury. So to start with, my main goal is to get both of us back up to our usual fitness (which is probably going to take me a lot more work than him!) I did some schooling for the first time yesterday, and I'm now genuinely struggling to walk. My poor thighs.
Once we're both feeling a bit more like our usual selves, I'd love to get back into competing a little bit more. I really need to work on my jumping, but ideally I'd like to get out to do some small unaffiliated show jumping classes locally. I've also never taken Lewi cross country, so this is another thing on my bucket list for 2018. Once we've had a go, the next step is to hopefully give a pairs hunter trial a go. I'm quite nervous jumping, so this will definitely take some work! I did one a while ago on my old loan pony, and I don't think I breathed the whole way round.
A beach trip is also something I want to do- I live in the North-East of England and we have some incredible beaches near us. I love the freedom you can have on beach rides, plus you don't have to worry about trying to stop! You do tend to become a bit of a tourist attraction too.
Dressage is probably my preferred discipline, or at least what I'm most comfortable with. Having said this, I've never done anything more than the basics. Lewi also isn't a massive fan- we tried dressage, and he spent most of the time trying to work out where all the jumps were! So along with SJ and XC, I'd quite like to give this a go. And maybe, if it all manages to work together okay, we might try a tiny ODE! This is being very optimistic though. Most of all, I want to make the most of 2018, and hopefully stay injury free for the year, which would be a first. Wishing everyone all the best for 2018, and good luck with your horsey goals!
Feel free to get in touch with me on Instagram, @lucy_and_lewi or Twitter @lucybell345 if you have any questions, or if you just fancy a chat.
Lucy xx