Ever look in your wardrobe and wonder what to wear? Planning on riding but not sure what's going to be the most comfortable/practical? Well worry no more, because here are my Top Tottie Must haves!
The Maven Hoodie:
A soft, light weight, sports style hoodie that is perfect for those chillier days on the yard. Its strategically placed thumb holes allow you keep the hoodie in place if you decide to wear a larger coat over it and its hood and adjustable toggles make it easier to keep the wind out. You can't go wrong with a hoodie!
https://harryhall.com/maven-hoodie-ocean-blue
The Ellie Endurance Breeches:
These breeches are my all time favourite! They're made of a really stretchy material that allows you to experience maximum comfort and freedom whilst riding. The fabric is fairly lightweight so they're perfect for the warmer weather! The pattern itself is very flattering- a large palm leaf print and the legs feature suede knee grips for extra stability in the saddle… Definitely a Tottie must have!
https://harryhall.com/ellie-endurance-jodhpurs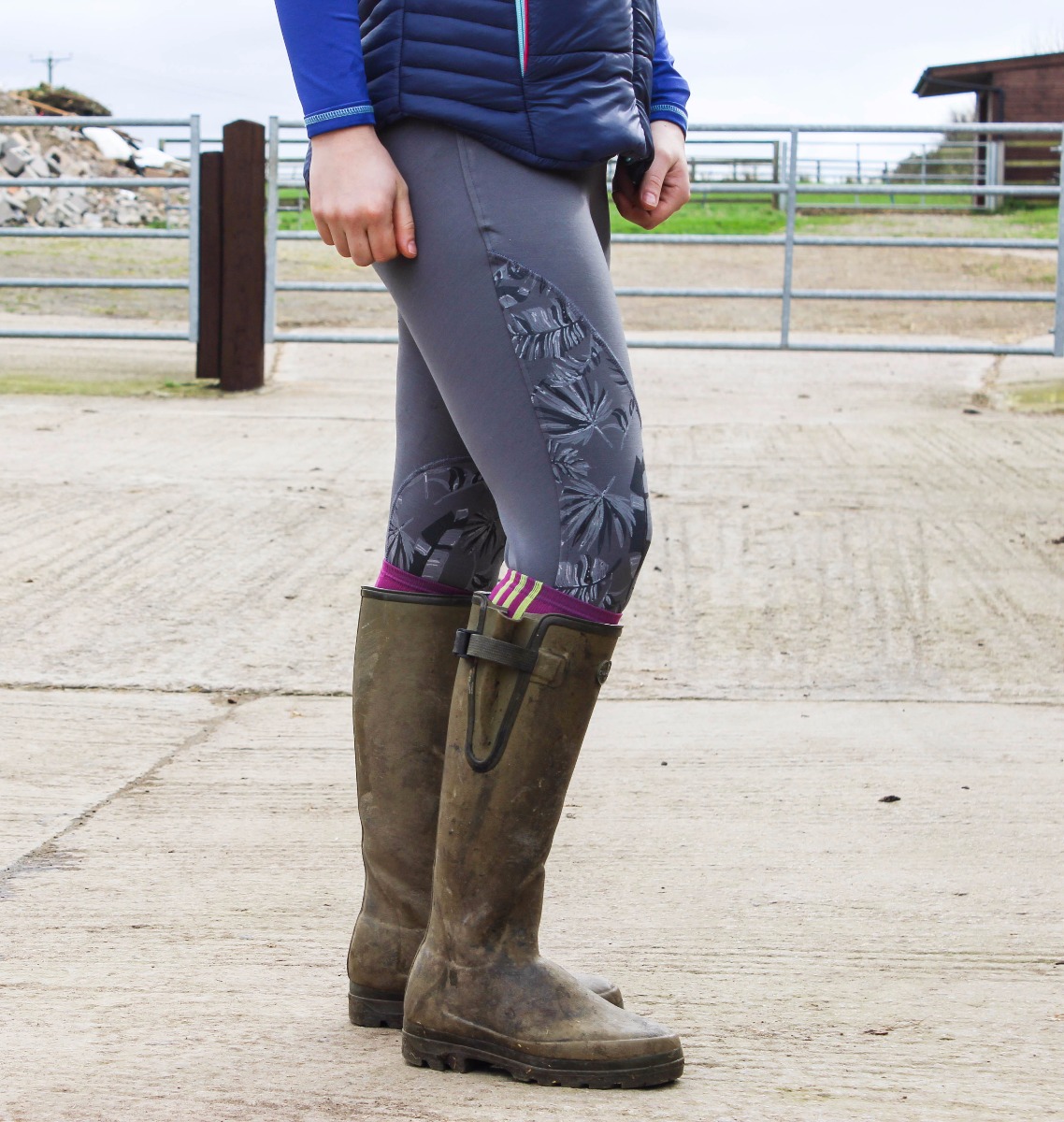 The Maven Jacket:
This lightweight Jacket is great out on the yard. Its windproof and waterproof so passes the English weather test! The coat itself features two external pockets, a handy internal pocket for your mobile phone, fully adjustable toggles, a removable hood and tapered sleeves to stop the cold creeping in. The design of the jacket allows you to not only wear it out on the yard, but is smart enough for you to wear out and about.
https://harryhall.com/maven-jacket-blackberry
The Honour riding Tights:
These are the perfect summer riding wear! This very light, stretchy and breathable fabric makes these riding tights undeniablely comfy on a warm summers day. They have a very flattering fit with a fabric design that draws the eye away from our problem areas (we all have them!) Again much like the Ellie breeches, they allow complete freedom of movement in the saddle making them both practical and stylish.
https://harryhall.com/honour-riding-tights
The Roxy Riding Gloves:
Their cammo print fabric immediately attracts the eye and so it should, they're to die for! Featuring a large Velcro strap, reinforced material on the fingers and elastic around the wrist all add to these gloves being super comfortable. Theyre are reasonably thick so would be great on the cooler days… if you suffer from the cold, I would advise sizing up and layering a thin pair underneath for added comfort.
https://harryhall.com/roxy-riding-gloves
The Foreland Hoodie:
One of my go to winter riding outfits. The hoodie is thick and fleece lined making it all cosy and warm in the cold. The product features a large hood (again, fleece lined) and thumb holes to keep it in place if youre layering under a jacket. Its available in purple and black, both lined with a bright contrasting colour, if youre a fan a matching up youre outifits, I would recommend pairing the purple Foreland hoodie with Totties Canford breeches! (see below)
https://harryhall.com/foreland-hoodie-black
The Canford Breeches:
Made with a black canvas type material and an ombre purple insert down the thigh, these breeches give you a smart but girly look. The bottom of the breeches tapers in around the ankle allowing them to sit comfortabley in your boot and the clasp and zip fastenings make them easy to get on and off. The material itself is quite thick, not so much in weight but more as in its durability, theyre quite a hardwearing pair of breeches and definitely pass the horsey test!
https://harryhall.com/black-canford-full-seat-breeches
The Stamford Gilet:
A practical, stylish and yard smart gilet that is perfect for everyday use. Its heavy quilted material means its wearable on the cooler summer mornings when you're preparing for a show or on the conterrary, the gilet isn't overly bulky, so you could layer it underneath your maven jacket (see above) on those chilly winter mornings! The gilet features two external zip pockets and funky/bright contrasting interior, the delicate piping along the seams make for an overall smart appearance, perfect whether you're horsey or not!
https://harryhall.com/navy-blue-stamford-womens-gilet
So there you have it, my top Tottie essentials all of which are available in the Tottie section on the HarryHall website. The quality of the product you get for the price you pay really is worth it, I wouldn't shop anywhere else!
Already got a tottielicious wardrobe? Send your photos over to @teamtottie, the Tottie brand amabassador* page and we'll share them!
*This is the official Tottie Brand Amabassador page. It is not run, monitored or endorsed by the official @tottie_clothing staff.