2017 was packed full of incredible highs and horrible lows! Whether it be horses, competing or normal life it's been a strange year! It started off great with my then 5 year old ex-racehorse Frosty the Snowman was adapting great to his new career after being off the track only 3 months. We completed our first one day event together where he was just out of the top 10 placing's by 0.01 of a point! He steamed round the XC and flicked his toes in the dressage ring and well we just about got round the showjumping!!
We were receiving regular training with Chris Bartle, who is now training Team GB event team, and aiming to start our 2017 British Eventing season together!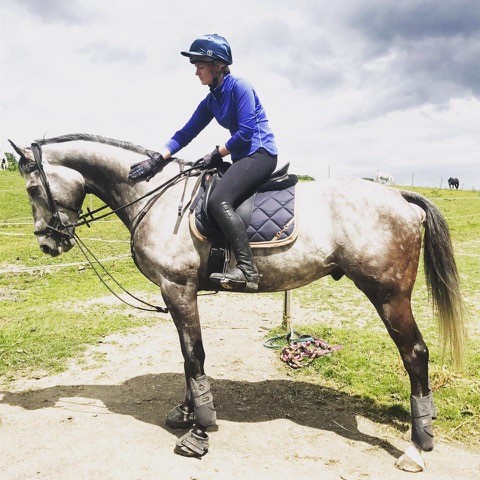 Myself and my beautiful horse Eddie took part in the Tottie SS/17 photoshoot, which was held at my college Askham Bryan! We had an amazing time and it was so nice to be able to be able to take my own horse!
After moving yards due to work commitments, things unfortunately went downhill. Whether it was the stress of moving, or just bad buck, Frosty began to gain more and more injuries! He jumped into his neighbors paddock and got a nasty kick, he then proceeded to mysteriously twist his shoe overnight in his stable resulting in the rest of the year off whilst recovering! So all our plans had to come to a halt!
During this time, I graduated university with a Bachelor of Science Honours degree in Equine Science, and was incredibly lucky to be in the process of setting my own livery yard up, meaning the horses being out of work wasn't all too bad. Running my own yard has really put into practice everything I've learnt in my level 3, degree and previous jobs!
Since moving home and letting all the horses have a good long break and having no pressure to keep them in work or compete, they seem to have come back into work with more enthusiasm! Eddie is even back in work and aiming for HOYS qualifiers next season, this time with no jumps, we're aiming for the Riding Horse class!
The thing that's kept us going this year is the ongoing support from our sponsors Tottie and Frosty's sponsor Green Veterinary Practice, hopefully we can campaign then more successfully during 2018!
I am really looking forward to spending another year working with Tottie, and am excited to share the up and downs of 2018 with you all!
Olivia x