Drimee Equestrian Solariums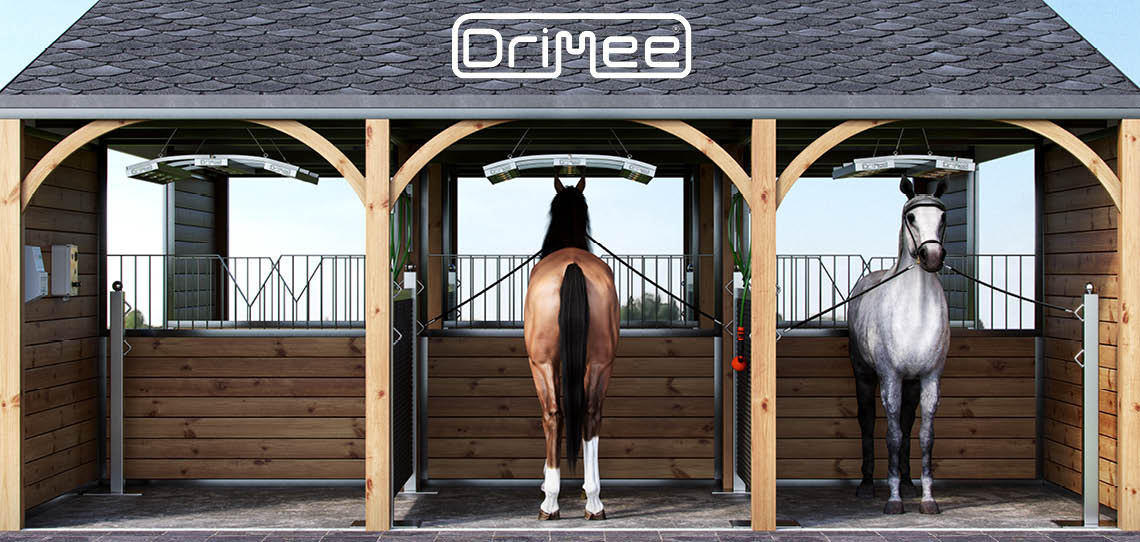 Drimee is a dedicated manufacturer based in Sheffield, UK bringing innovation to the industry through the manufacture of the most modern Equestrian Solariums. The Equestrian Solariums are designed to wrap your horse in therapeutic light and heat without the need for excessive redundant space. They are fitted with ultra-modern, short-wave halogen infrared bulbs making them the most efficient and quality of light therapy available in the UK market. Light therapy uses a combination of super luminous (visible) and infra-red (invisible) light to treat damaged skin as well as problems with muscles, tendons, bones and ligaments. The treatment works by stimulating the blood supply in a targeted area; providing oxygen and nutrients to the damaged tissue. It also stimulates the lymphatic system enabling waste products to be removed more quickly.
Benefits

Accelerates the natural moulting process, producing a smoother, glossier coat.
Promotes healthier skin.
Improves blood circulation, cellular metabolism and the general health and wellbeing of your horse or pony.
Reduces warm-up times for scheduled exercising periods.
Helps break down the lactic acid after exercise that causes muscles to tighten, also aiding the absorption of blood sugar.
Infrared heat penetration is a great source of Vitamin D, an essential vitamin for healthy skin and muscle development.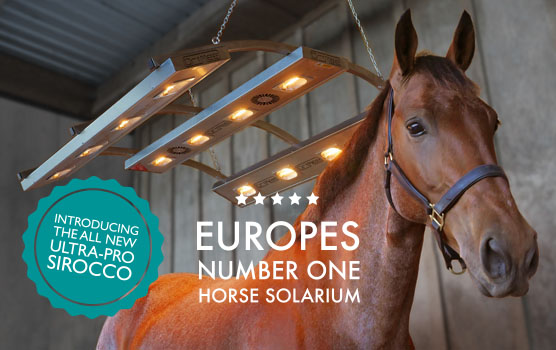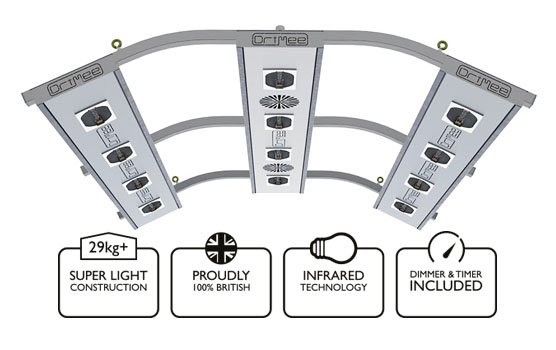 Drimee Solariums - Product Features

All models come with a dimmer unit enabling users to adjust the power settings allowing variable infra-red output, removing the need to raise or lower the solarium. It's universally recommended that you set the solarium 60cm/2 feet from the withers of your largest horse ON LOW HEAT, then increase the intensity to reach your smaller horse. The control unit allows users to set the timer up to 55 minutes. Premium ventilated panels allow for quicker unit cool down times.
Construction
Drimee horse solariums are one of the lightest products available on the market which means you shouldn't need to reinforce a solid ceiling to mount them, if you are in doubt you should consult a local builder for confirmation. The solariums are inset with low pressure, low energy and low-cost quartz halogen bulbs making the solariums a low running cost eco-product. The solariums are ideal to place in wash boxes as they have a corrosion resistant construction. The cables are fed through the stainless-steel frame for safety and hanging kits are supplied with 10m of chain, snap clips and eyelets.

Care for your Solarium

Please note your Drimee solariums must be unplugged from the mains power before any cleaning. Stainless steel kitchen cleaner can be used when cleaning the solarium, do not spray ANY liquid on the bulbs or bulb holders. Bulbs can be changed yourself, simply follow the instructions in the box or fitting when you receive your sunburst solarium. Please remember not to handle the bulbs with bare hands.

SHOP THE RANGE