We stock saddle pads, numnahs, saddlecloths and half pads for a variety of disciplines. Our range includes air mesh, breathable numnahs, and sheepskin saddlecloths.
We also sell a wide range of high-quality Personalised Saddle Pads and Saddle Cloths.
Horse Saddle Pads and Numnahs
Harry Hall are equestrian specialists and included in our extensive range of horse wear are a selection of saddle pads, numnahs saddlecloths and half pads for a variety of disciplines. Our range includes air mesh, breathable numnahs, and sheepskin saddlecloths. A high-quality numnah is an essential item to help your horse feeling comfortable and protected throughout their back while out riding, schooling or competing. Our numnahs come in a variety of different styles, shapes and colours and are made from excellent quality materials to ensure the highest level of comfort and protection for your horse or pony. From brown to pink, white, black and blue we have a colour to suit your horse and your needs. The Harry Hall saddle pad and numnah range includes high withers numnahs, GP and dressage saddlecloths suitable for everyday use as well as in a competition environment.
Our numnah range includes sheepskin half pads in a selection of colours with adjustable fastenings to ensure it fits your saddle securely offering maximum comfort for you and your horse. Included in our saddlecloth range is the well-known Protechmasta saddlecloth and saddlepad. The Protechmasta saddlecloth is designed to gently increase blood flow to the muscle groups along the back assisting warm up, improving flexibility and helping to prevent injury. 3D Airmesh outer fabric makes this saddlecloth extremely lightweight and maximises air circulation. We hope you enjoy browsing our full numnah and saddlecloth collection.
A saddle pad is placed on top of the horse, between them and the saddle, this allows for an extra level of cushioning, to help the saddle stay clean and to keep the saddle from absorbing dirt and sweat.
A numnah is very similar to a saddle pad, they both offer the same level of practical use, with the only difference being the shape, numnahs are generally saddle-shaped whilst saddle pads are usually square-shaped.
To know what size saddle pad your horse requires, you first need to know the overall size of your horse, please find below the information you require.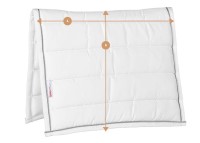 Once you have measured your horse, you will be able to tell what size saddle pad you need, each of our products contain a size guide so you are able to work out what will fit your needs.
A lot of saddle pads are machine washable but please check washing instructions for your specific saddle pad first.
A lot of people ask what the difference is between a saddle pad and a numnah, but as we have said above, they both offer the same practical uses but are just differently-shaped.