Affordable horse insurance

No hefty quotes. Flat online rates. No faff, only savings!
Why choose Harry Hall insurance?

We are trusted (and loved) by thousands of happy equestrians with a 5 star rated service.

Don't dread your renewal. We reward our members for sticking with us!

You can get covered online in minutes with no lengthy forms to fill in.

From 30 days old to veteran horses, all but one of our policies have no age limits.

One Club members save up to 30% off our online equestrian shop and get free delivery on orders too!
Our Equine Insurance Options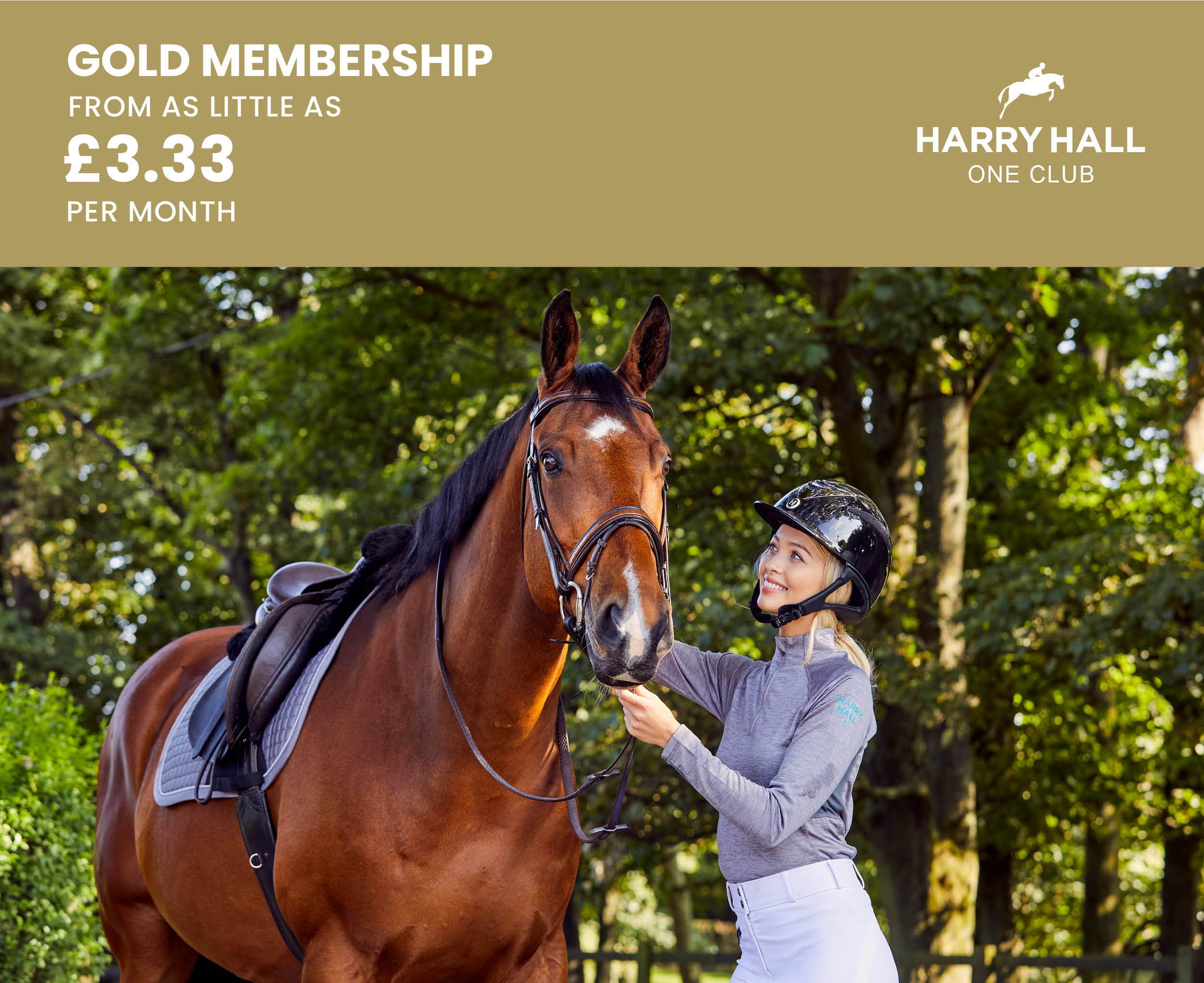 Our One Club Gold Membership includes:
£10m Public Liability Insurance

£10k Personal Accident Insurance

Amazing savings on HarryHall.com

Free UK Delivery & Returns
Vet Fee and Trailer Insurance are exclusive to our One Club members.
"The fact that my family and I are protected should anything happen with our ponies is reassuring, but being at such a great price point AND getting free delivery in the store is fabulous!" ★★★★★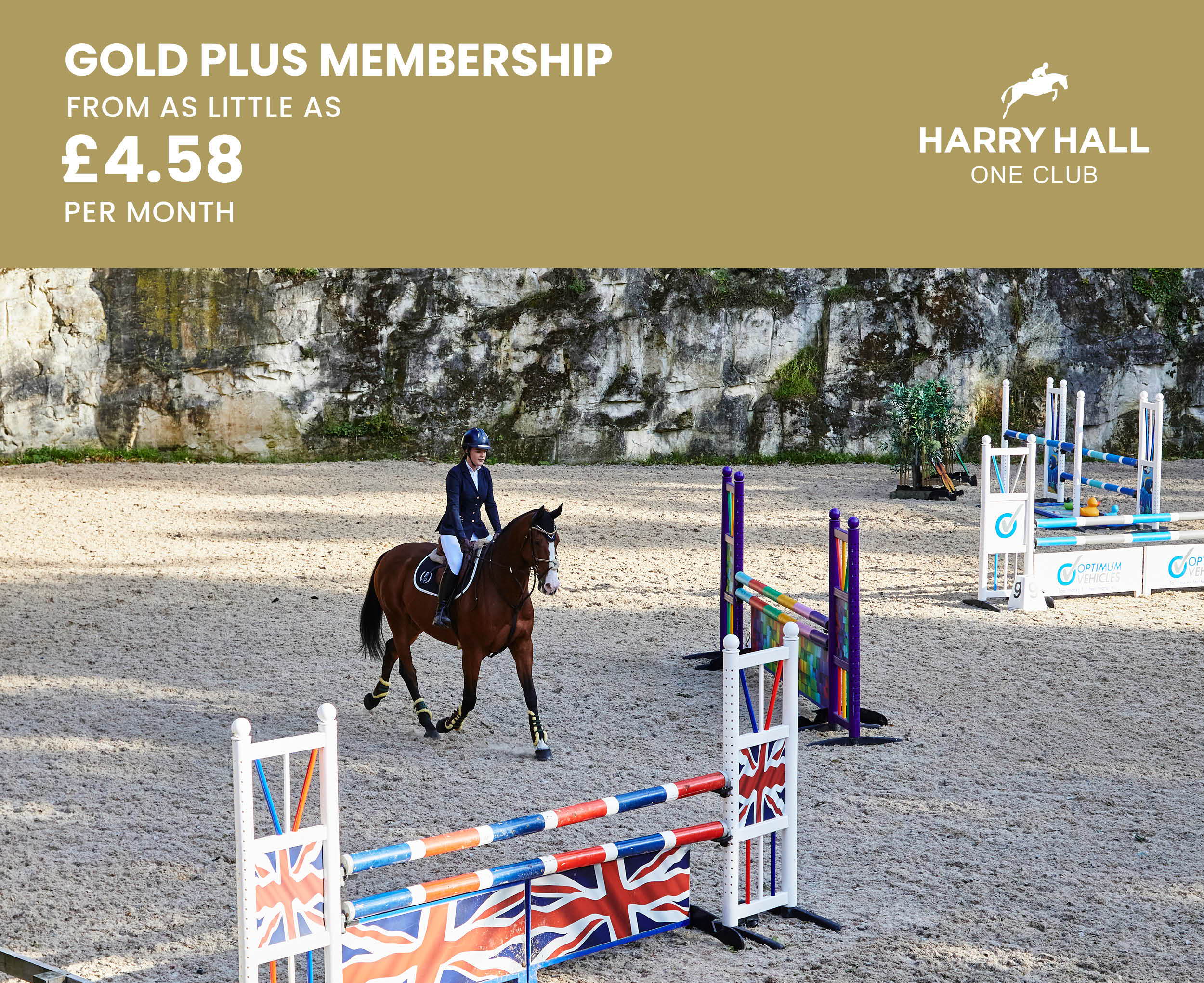 Gold Plus Membership – all the same great benefits & insurance as Gold but with additional cover for Affiliated competitions.
Perfect if you're thinking about buying a class ticket for British Dressage, British Show Jumping or competing at a venue under affiliated rule.
"Excellent value for money cover, and then the bonus of being able to buy quality items at such a discount!! I love that I am now covered to compete at affiliated events as well." ★★★★★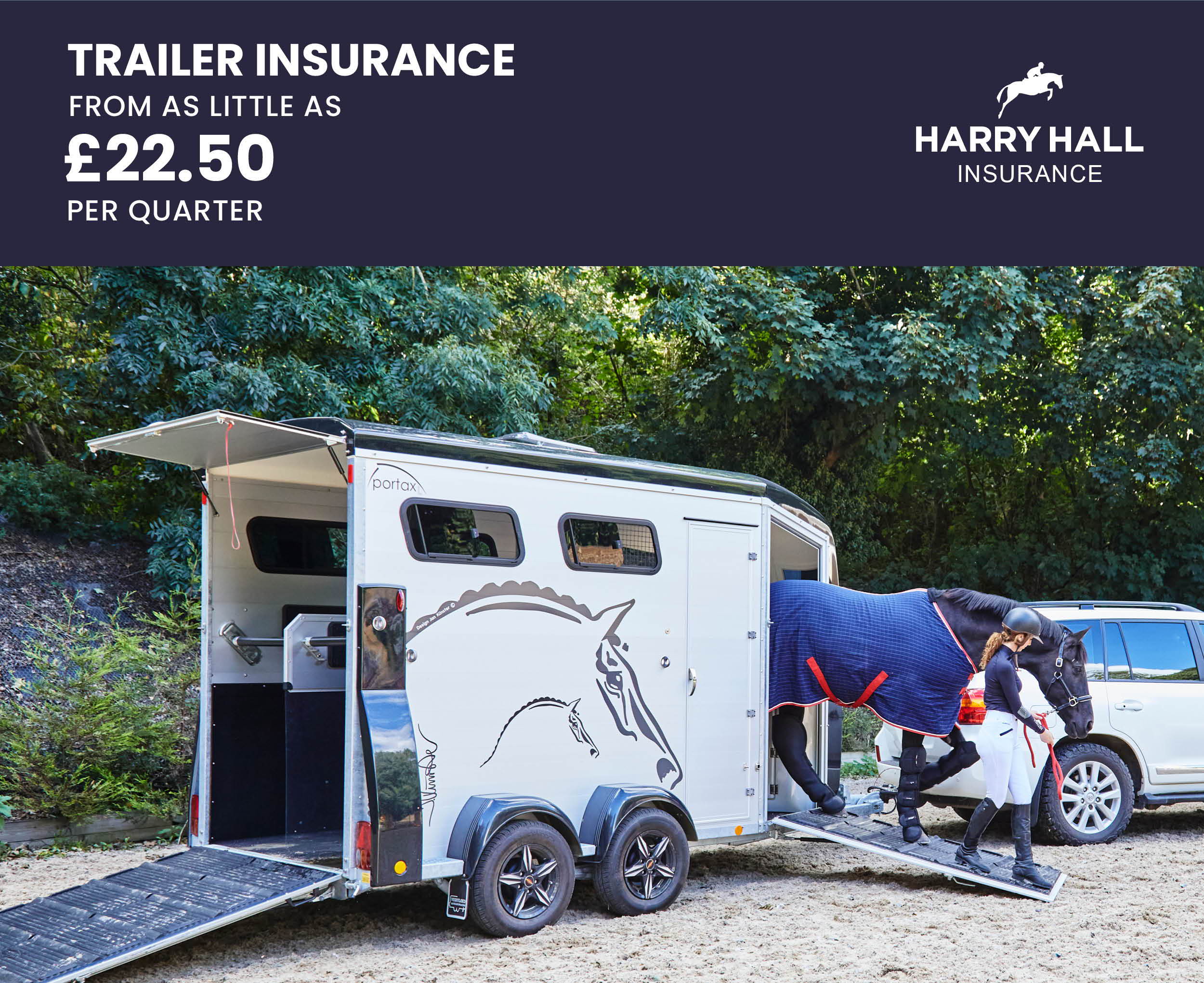 Member exclusive Horse Trailer Insurance includes:
Accidental damage or theft cover to the value of £2,000 or £5,000. Pick the option to suit you.

Recovery, delivery and hire trailer costs included to ensure you and your horse get home safe.
"Easy to purchase and renew, great value for money and the policy is one of the better ones in terms of what is covered. 2nd year of having this trailer insurance." ★★★★★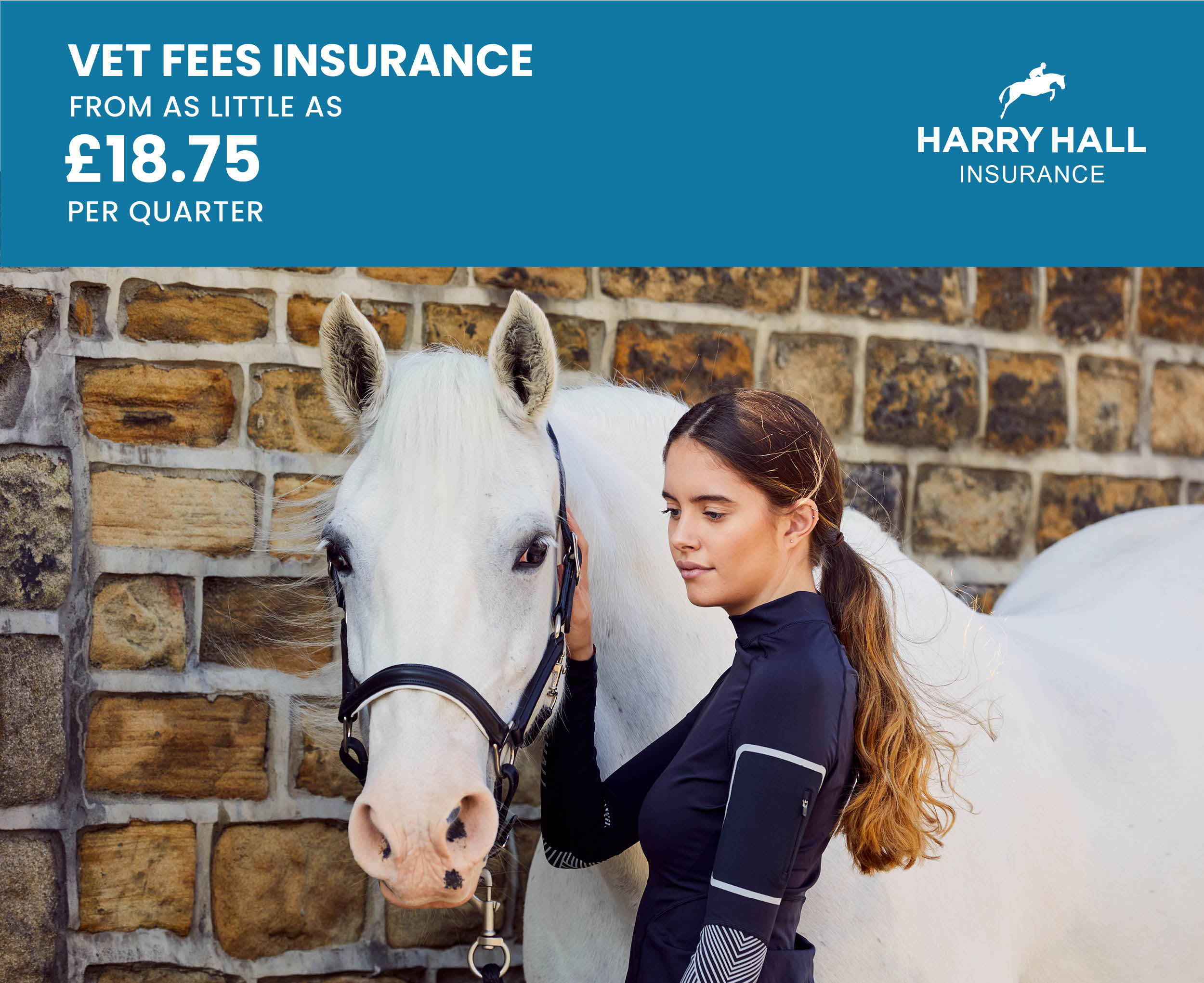 Member exclusive Horse Veterinary Fees Insurance includes:
Protection for accidental and external injuries up to claim limits of £1,500 or £3,000. Pick the level to suit your needs.

Covers up to 2 horses as standard or up to 4 horses for One Club Gold Family members.
"Wow what an amazing service from Harry Hall using their vets fees insurance , the staff were so helpful. The claim was paid within 2 weeks of my vets invoicing. I can't recommend this insurance and the staff any more highly. It's been the best service I have received in over 30 years of insuring horses." ★★★★★
---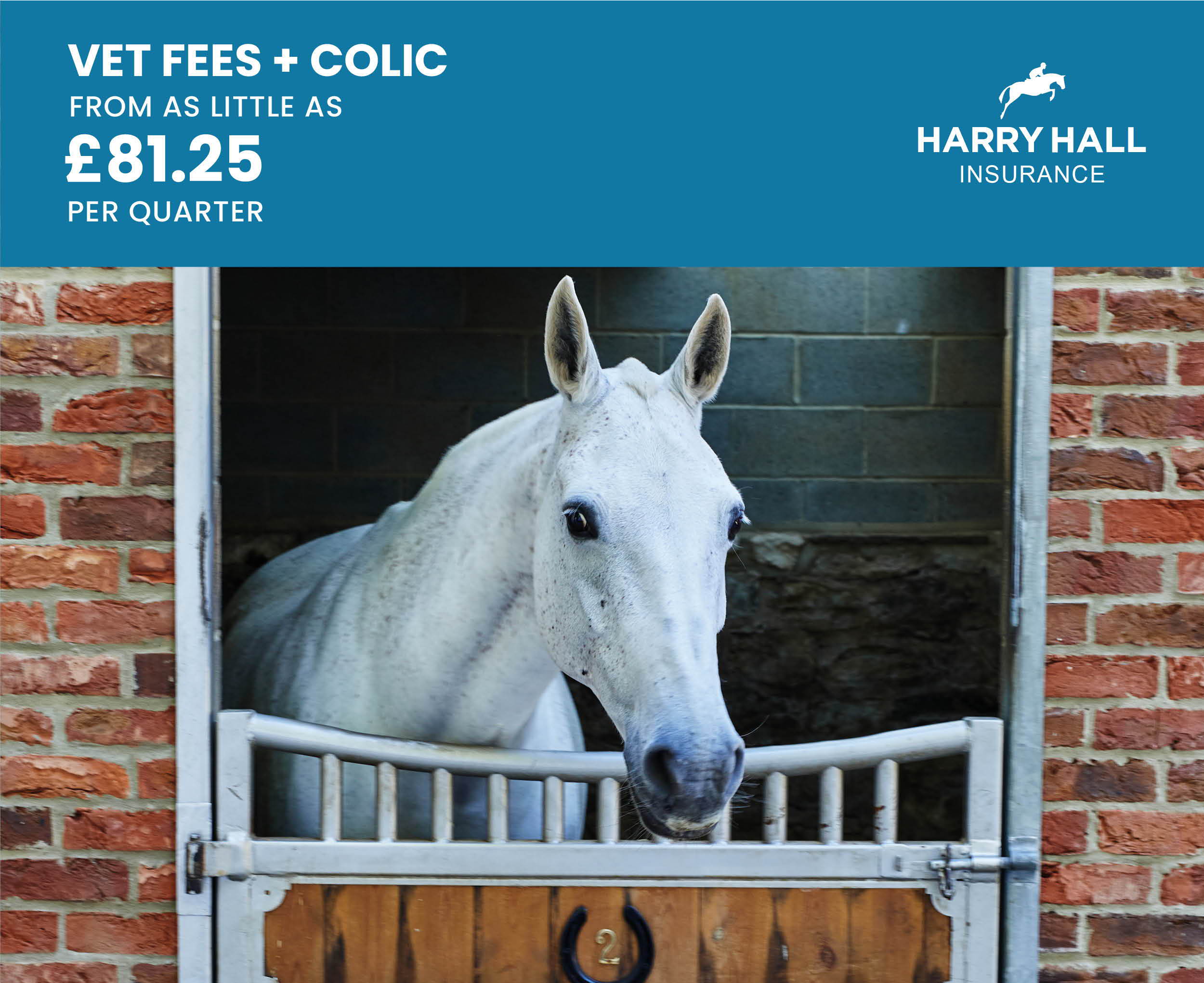 In addition to our standard Vet Fee policy, you can also protect against Colic:
Up to £5,000 claim cover for Colic surgery.

Covers up to 2 horses as standard or up to 4 horses for One Club Gold Family members.
Simply choose Colic from our Vet Fee cover options.
---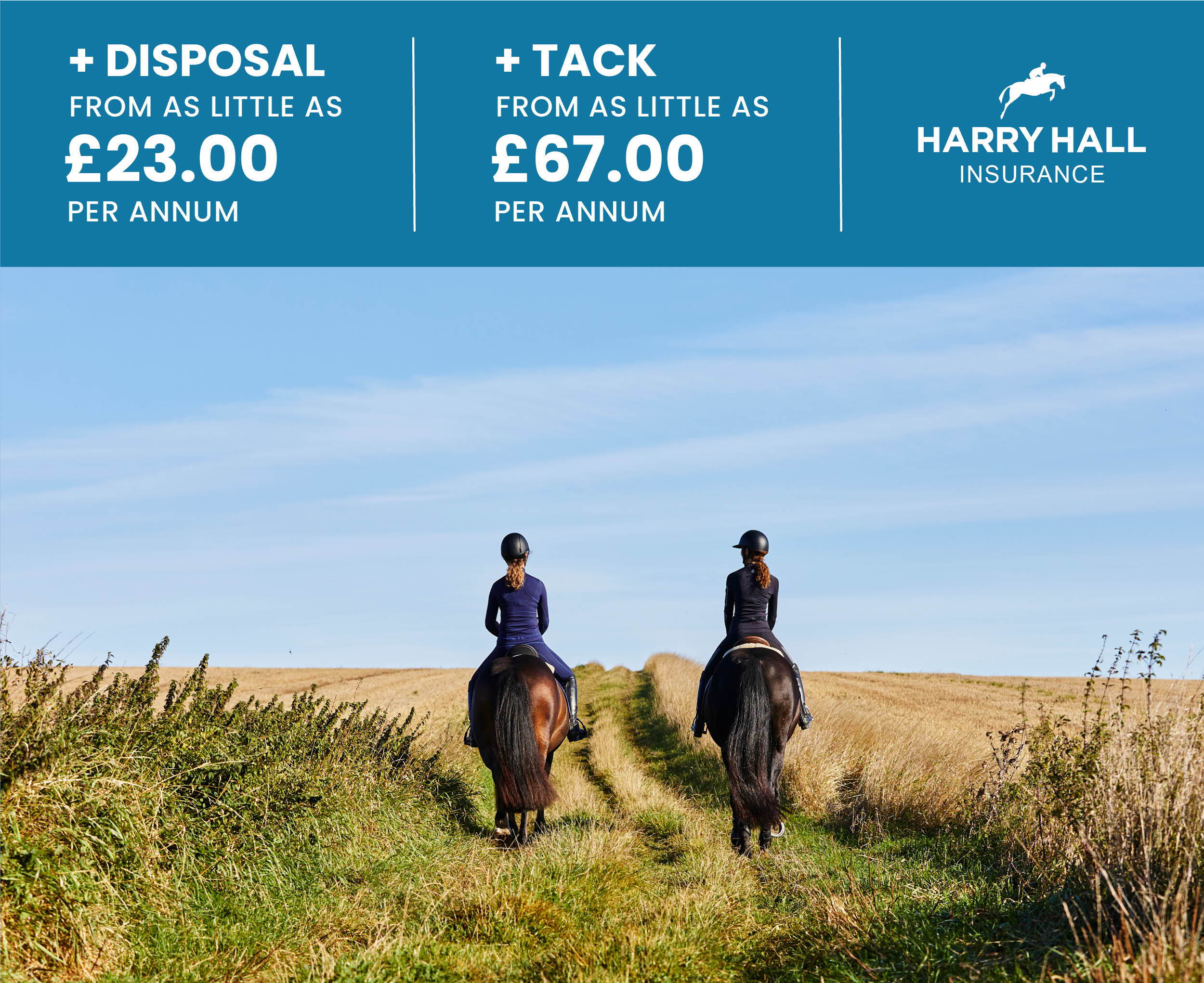 In addition to our standard Vet Fee policy, you can also cover:
Equine Saddlery & Tack Cover up to £1,000
Disposal & Euthanasia Cover up to £300
Simply choose your extras from our Vet Fee cover options.
Why horse owners need Public Liability Insurance

Public liability horse insurance is vital. It covers riders out on their horse in a public space, against injury or damage to a third party, in the situation where you are found liable. Our public liability insurance is one of the many benefits of joining our Gold membership.
Horse public liability insurance is often referred to as rider insurance and is frequently a requirement for owners and riders taking part in equestrian events. Our Gold Plus Membership covers affiliated competition riding for those that need it.
Becoming a member is easy and straightforward. Harry Hall One Club membership not only guarantees to cover you for unfortunate incidents, but you'll also receive exclusive discounts on our horse riding clothes and accessories, including horse rugs.
Why you should take out Horse Vet Fees Insurance

Vet fees can be costly, especially for horses, so having vet fees insurance in place can put your mind at rest, making the situation less stressful. We provide cover from accidental, external injuries to colic and disposal so you can find the level of protection right for you.
We know that the price of horse insurance can put people off insuring older or less ridden which is why we offer ours from only £75 a year.
Do I need horse insurance?
Yes. Like you would for any other pet or animal insurance. Therefore, we strongly recommend taking out equine horse insurance to ensure both you and your horse are protected. That means avoiding having to pay out on veterinary fees or public liability claims.
Harry Hall partners with a reputable and specialist equestrian broker, SEIB, who offer practical and exclusive cover options that we sell at a competitive price. With over 50 years' experience within the industry, and with many of their staff owning horses, they're able to combine a professional and considerate service.
How much is horse insurance?
Honestly, horse insurance can be expensive. That's why we set out to provide affordable options for the UK's diverse horse owners.
At Harry Hall we offer transparency in all our pricing and your options could cost as little as:
Horse Public Liability Insurance and Personal Accident Cover from £40 per year

Horse Vet Fee Insurance from £75 per year (plus membership from £10 per year to access)

Horse Trailer Insurance from £90 per year (plus membership from £10 per year to access)
We're confident those prices will save most horse owners a bunch on their next renewal!
Should I cover my veteran horse?
We don't want horse owners to feel that their horse isn't worth insurance cover, no matter the age. Our standard Vet Fees cover doesn't have a higher age limit which can make it a cost-effective fit for veteran horses at only £75 per year.
No-one wants to think about the costs associated with the end of a horses life, but protecting yourself with Disposal Cost Cover can help to reduce financial stress at such a difficult time.
What does Harry Hall's horse insurance cover?
Equine insurance can cover riders in a variety of ways, these include:
Public liability cover

Veterinary fees

Theft/ straying/ mortality

Permanent loss of use

Personal accident cover

Saddlery and tack

Colic

Trailers and horse-drawn vehicles
Here at Harry Hall, we understand the importance of ensuring your horse is happy, healthy and safe. This means it's key to have the right policy in place to cover you should something unfortunate happen.
Speak to a member of our team today for more information; we'll be more than happy to help and ensure you take out the right cover.
Do I need to be a Harry Hall One Club member to take out horse insurance?
Yes, you will need to be a One Club member to benefit from Harry Hall's horse insurance covers. However, it's super simple to become a Bronze from £10 per year or Gold member from £3.33 per month.
You simply add the membership product you want to your basket to unlock access to our Vet Fees and Horse Trailer policies.
Already a member? Login to your account to unlock access.
What else does Harry Hall's One Club Gold Membership cover for my horse and me?
For Gold members, you will receive public liability insurance and personal accident cover for horse riders**
More than that you'll unlock big savings and free delivery on HarryHall.com too!
Is horse insurance the same as pet insurance?
Horse and pet insurance policies share the same purpose in protecting the owner from big claims or costs that relate to the animal. Probably the most comparable is cover for expensive vet fees, though for a horse these can be much more costly and conditions like Colic should also be considered.
As an owner or rider, public liability to protect from damage or injury by your horse, and personal accident cover for financial support related to injuries are much more relevant to us horsey folk.
There are also additional policies like saddlery and tack cover or horse trailer insurance designed to pay towards the cost of replacing damaged or stolen extras that go with being a horse owner.
Another factor are disposal costs which although tough to think about are well worth protecting against with insurance.
At Harry Hall it's our goal to make all this cover as transparent and affordable as possible. That's why you can pick out all of the above in our policies bit by bit to get the perfect policy for you and an amazing price.
*Pony Club products and Personalisation are excluded from the FREE UK delivery offered to Gold Members.
**Policy terms conditions and territorial limits apply - Harry Hall International Limited is an appointed representative of South Essex Insurance Brokers Limited who are authorised and regulated by the Financial Conduct Authority. Terms, conditions and territorial limits apply.
To view your policy documents please log in to the Harry Hall Riding App or visit the My Account section of the website. You will also be emailed your policy documents and important phone numbers.
Prepare for perks when you join the One Club

Joining the Harry Hall One Club means exclusive product discounts, year-round savings, free delivery, competitions, access to riding technology and much more. But it also means you and your horse are at the heart of everything we do.