Harry Hall offers a variety of essential policies to ensure both the rider and horse are protected, including public liability insurance, horse vet fees insurance, horse colic insurance, and horse trailer insurance.

Harry Hall's One Club Gold members will receive complimentary public liability and personal accident insurance covers, as well as exclusive access to our new vet fees insurance and horse trailer insurance. Find out more about Harry Hall One Club membership here.
Our horse insurance products are competitive and easy to arrange for horse owners and riders. Our professional and personal experience within the equine industry has enabled us to offer an affordable policy, in conjunction with SEIB Insurance brokers, with exclusive benefits unique within the market.

Do you know what's even better than that? Our insurance premiums haven't gone up in price once. In fact, we will even reward members for renewing!
Harry Hall's Equine Insurance
Owning a horse, whether it's a pony or a horse, young or old, is a significant investment, not only from a cost perspective but time too, and having the right insurance policy in place is key. It wouldn't be safe to drive a car without insurance; the same applies to riding a horse.

Harry Hall has three equine insurance products available: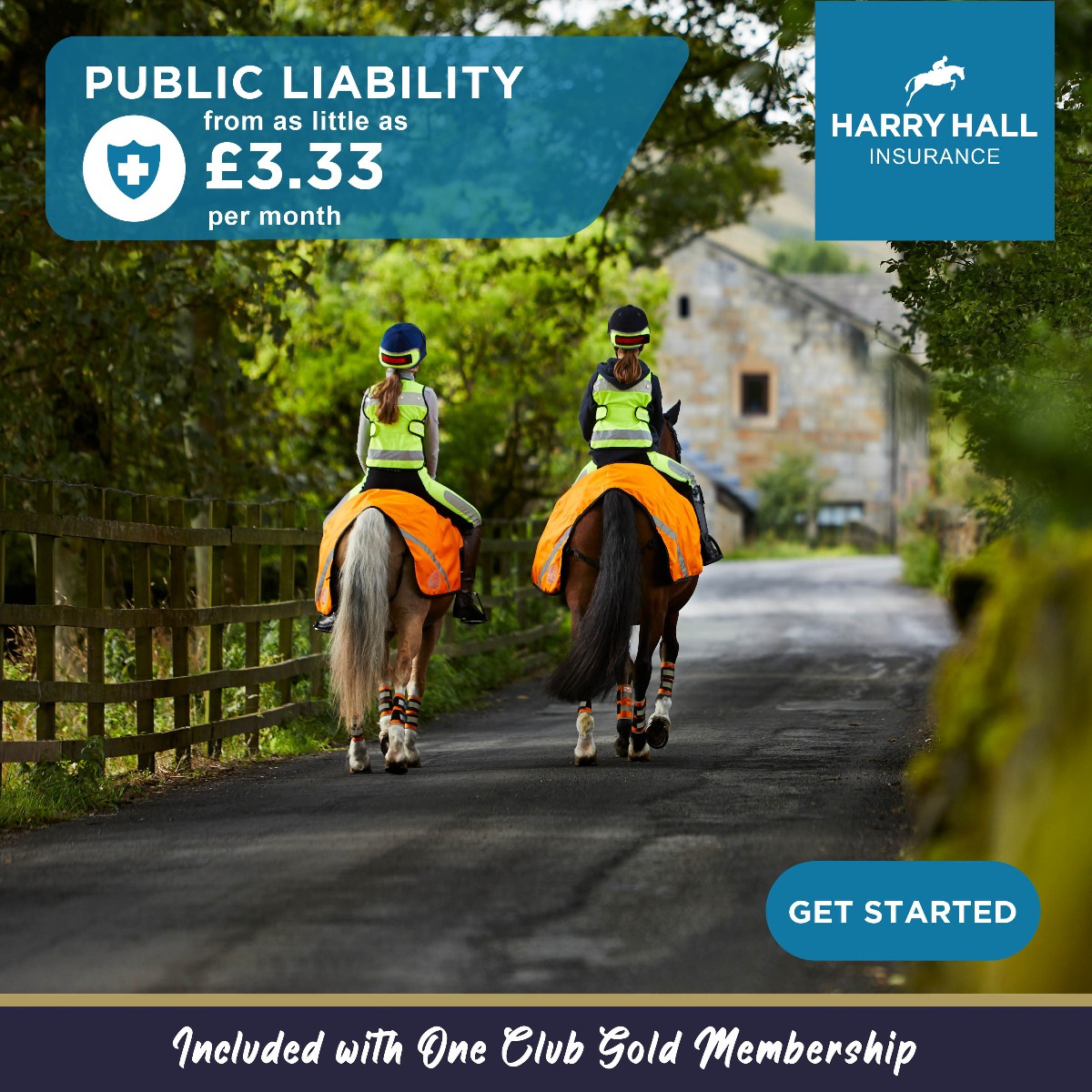 GOLD MEMBERSHIP - FROM £3.33 PER MONTH
Gold One Club Membership includes £10M public liability insurance and £10K personal accident insurance, along with giving you access to amazing savings at HarryHall.com year round and FREE UK delivery*. Additional cover for Affiliated competitions is available with Gold Membership Plus.
Vet Fee Insurance and Trailer Insurance are exclusive to our One Club members.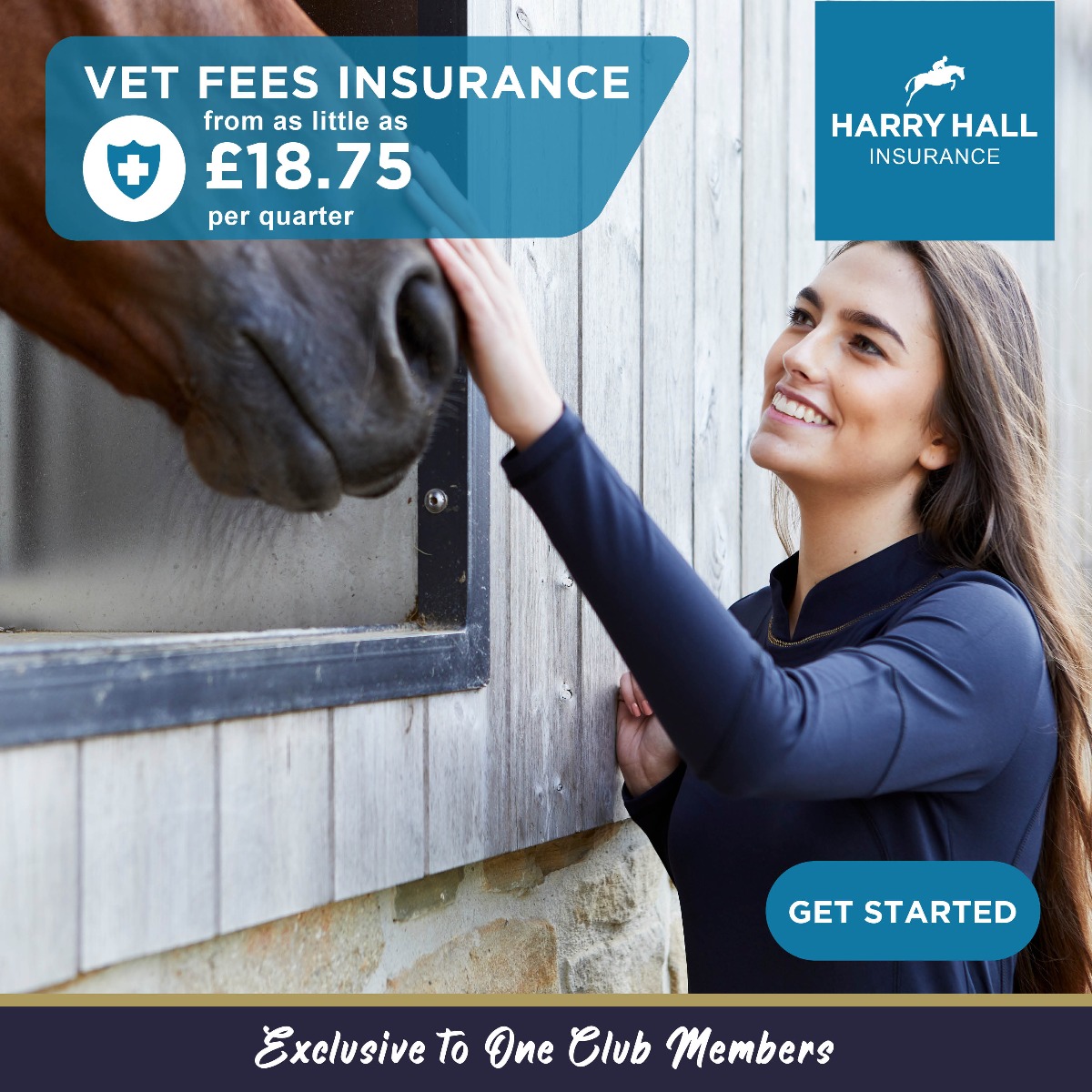 VET FEES INSURANCE
MEMBER EXCLUSIVE - £75 PER YEAR
An exclusive benefit for our One Club members, our equine veterinary insurance gives you access to vet fee cover, meaning you can protect yourself against accidental and external injuries only with a claim limits available of £1,500 and £3,000. We also have additional Colic Cover available.
Optional extras of Tack Cover and Disposal Costs can also be added for an additional fee.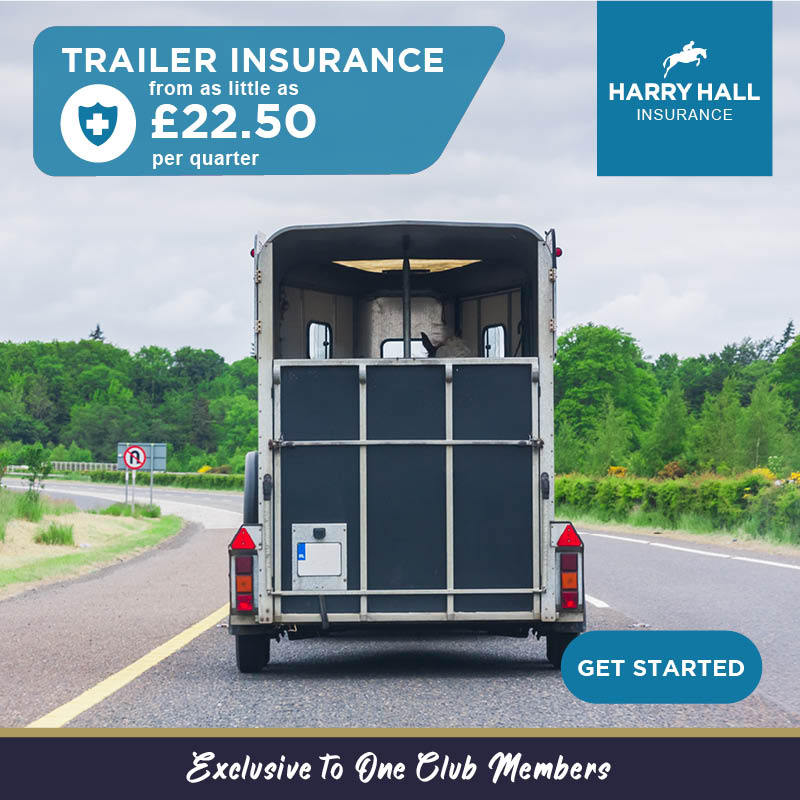 HORSE TRAILER INSURANCE
MEMBER EXCLUSIVE - FROM £90 PER YEAR
Our Trailer Insurance could cover your horse trailer against accidental damage or theft to the value of £2,000 or £5,000 dependent on the option chosen, or current market value - whichever is the lesser amount. You can be reassured that in the event of accidental damage, recovery and delivery costs are included to get you and your horses home. The costs of hiring an alternative trailer, in the case of loss or damage leaving it unusable is also included.

Public liability horse insurance is vital. It covers riders out on their horse in a public space, against injury or damage to a third party, in the situation where you are found liable. Our public liability insurance is one of the many benefits of joining our Gold membership. You can read more about Harry Hall's public liability and horse rider insurance here.

Horse vet fees insurance will protect your horse against accidental, external injuries with a limit of £1,500 in the aggregate, policy year. Vet fees can be costly, especially for horses, so having vet fees insurance in place can put your mind at rest, making the situation less stressful. You can find out more about Harry Hall's horse vet fees insurance here.

It's important to ensure that you're covered on the road and for accidental damages or theft of your trailer. You can find out more about Harry Hall's horse trailer insurance here.

To take out a Harry Hall horse insurance policy, you must be a One Club member. Becoming a member is easy and straightforward. Harry Hall One Club membership not only guarantees to cover you for unfortunate incidents, but you'll also receive exclusive discounts on our horse riding clothes and accessories, including horse rugs.

We now offer riders the option of adding disposal cover and protecting your tack and saddlery against theft or damage.

Our public liability insurance is included as standard within your Gold One Club membership.

Find out more about Harry Hall's One Club membership here, or contact us today on 01274 711011 to speak to a member of our friendly team.
Commonly Asked Questions
Do I need horse insurance?
Yes. Like you would for any other pet or animal insurance. Therefore, we strongly recommend taking out equine horse insurance to ensure both you and your horse are protected.Harry Hall works with a reputable and specialist equestrian broker, SEIB, who can offer practical and exclusive cover options at a competitive price. With over 50 years' experience within the industry, and with many of their staff owning horses, they're able to combine a professional and considerate service.


What does Harry Hall's horse insurance cover?
Equine insurance can cover riders in a variety of ways, these include:
Public liability cover

Veterinary fees

Theft/ straying/ mortality

Permanent loss of use

Personal accident cover

Saddlery and tack

Colic

Trailers and horse-drawn vehicles
Here at Harry Hall, we understand the importance of ensuring your horse is happy, healthy and safe. This means it's key to have the right policy in place to cover you should something unfortunate happen.
Speak to a member of our team today for more information; we'll be more than happy to help and ensure you take out the right cover.


Do I need to be a Harry Hall One Club member to take out horse insurance?
Yes, you will need to be a One Club member to benefit from Harry Hall's horse insurance covers. However, it's simple to become a member.
Our vet fees and trailer insurance is exclusive to Harry Hall One Club members. You can become a Bronze member for just £10 per year or a premium Gold member from only £3.33 per month.


What else does Harry Hall's One Club Gold Membership cover for my horse and me?
For Gold members, you will receive public liability insurance and personal accident cover for horse riders**